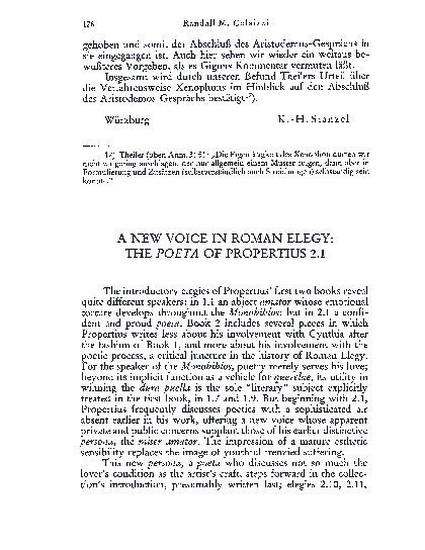 Article
A New Voice in Roman Elegy: The Poeta of Propertius 2.1
Rheinisches Museum für Philologie (1993)
Abstract
The introductory elegies of Propertius' first two books reveal quite different speakers: in 1.1 an abject amator whose emotional tortute develops throughout the Monobiblos; but in 2.1 a confident and proud poeta. Book 2 includes several pieces in which Propertius writes less about his involvement with Cynthia after the fashion of Book 1, and more about his involvement with the poetic process, a critical juncture in the history of Roman Elegy. For the speaker of the Monobiblos, poetry merely serves his love; beyond its implicit function as a vehicle for querelae, its utility in winning the dura puella is the sole "literary" subject explicitly treated in the first book, in 1.7 and 1.9. But beginning with 2.1, Propertius frequently discusses poetics with a sophisticated air absent earlier in his work, offering a new voice whose apparent private and public concerns supplant those of his earlier distinctive persona, the miser amator. The impression of a mature esthetic sensibility replaces the image of youthful frenzied suffering.
Citation Information
Randall Colaizzi. "A New Voice in Roman Elegy: The Poeta of Propertius 2.1"
Rheinisches Museum für Philologie
Vol. 136 (1993)
Available at: http://works.bepress.com/randall_colaizzi/1/