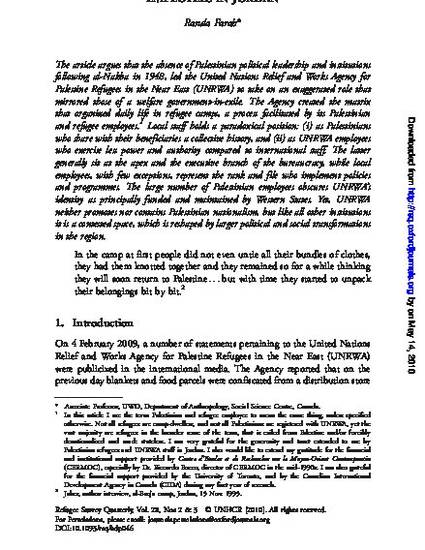 Article
UNRWA: Through the Eyes of its Refugee Employees
Refugee Survey Quarterly (2010)
Abstract
The article argues that the absence of Palestinian political leadership and institutions following al-Nakba in 1948, led the United Nations Relief and Works Agency for Palestine Refugees in the Near East (UNRWA) to take on an exaggerated role that mirrored those of a welfare government-in-exile. The Agency created the matrix that organized daily life in refugee camps, a process facilitated by its Palestinian and refugee employees.1 Local staff holds a paradoxical position: (i) as Palestinians who share with their beneficiaries a collective history, and (ii) as UNRWA employees who exercise less power and authority compared to international staff. The latter generally sit at the apex and the executive branch of the bureaucracy, while local employees, with few exceptions, represent the rank and file who implement policies and programmes. The large number of Palestinian employees obscures UNRWA's identity as principally funded and maintained by Western States. Yet, UNRWA neither promotes nor contains Palestinian nationalism, but like all other institutions it is a contested space, which is reshaped by larger political and social transformations in the region.
Keywords
unrwa,
employees,
humanitarianism,
jordan,
palestinian refugees
Citation Information
Randa R Farah. "UNRWA: Through the Eyes of its Refugee Employees"
Refugee Survey Quarterly
Vol. 28 Iss. 2-3 (2010)
Available at: http://works.bepress.com/randa_farah/4/