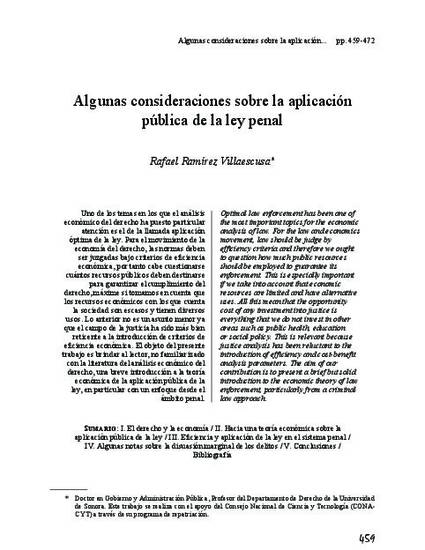 Article
Algunas consideraciones sobre la aplicación pública de la ley penal
Alegatos (2013)
Abstract
Uno de los temas en los que el análisis económico del derecho ha puesto particular atención es el de la llamada aplicación óptima de la ley. Para el movimiento de la economía del derecho, las normas deben ser juzgadas bajo criterios de eficiencia económica, por tanto cabe cuestionarse cuántos recursos públicos deben destinarse para garantizar el cumplimiento del derecho, máxime si tomamos en cuenta que los recursos económicos con los que cuenta la sociedad son escasos y tienen diversos usos. Lo anterior, en pocas palabras, significa que el costo de oportunidad de invertir en el sistema de justicia es aquello que dejamos de invertir en sanidad pública, educación o combate a la pobreza, entre otros. Lo anterior no es un asunto menor ya que el campo de la justicia ha sido más bien reticente a la introducción de criterios de eficiencia económica. El objeto del presente trabajo es brindar al lector una breve introducción a la teoría económica de la aplicación pública de la ley, en particular con un enfoque desde el ámbito penal.
Optimal law enforcement has been one of the most important topics for the economic analysis of law. For the law and economics movement, law should be judge by efficiency criteria and therefore we ought to question how much public resources should be employed to guarantee its enforcement. This is especially important if we take into account that economic resources are limited and have alternative uses. All this mean that the opportunity cost of any investment into justice is everything that we do not invest in other areas such as public health, education or social policy. This is relevant because justice analysis has been reluctant to the introduction of efficiency and cost-benefit analysis parameters. The aim of our contribution is to present a brief but solid introduction to the economic theory of law enforcement, particularly from a criminal law approach.
Keywords
Economía,
delito,
eficiencia
Publication Date
August, 2013
Citation Information
Rafael Ramírez Villaescusa. "Algunas consideraciones sobre la aplicación pública de la ley penal"
Alegatos
Iss. 84 (2013)
Available at: http://works.bepress.com/ramirezvillaescusa/6/