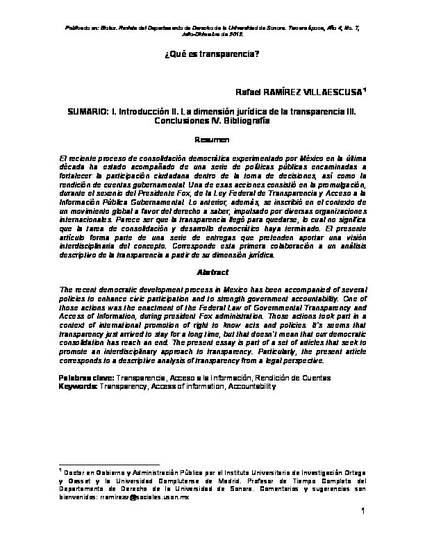 Article
¿Qué es transparencia?
Biolex. Revista del Departamento de Derecho de la Universidad de Sonora (2012)
Abstract
El reciente proceso de consolidación democrática experimentado por México en la última década ha estado acompañado de una serie de políticas públicas encaminadas a fortalecer la participación ciudadana dentro de la toma de decisiones, así como la rendición de cuentas gubernamental. Una de esas acciones consistió en la promulgación, durante el sexenio del Presidente Fox, de la Ley Federal de Transparencia y Acceso a la Información Pública Gubernamental. Lo anterior, además, se inscribió en el contexto de un movimiento global a favor del derecho a saber, impulsado por diversas organizaciones internacionales. Parece ser que la transparencia llegó para quedarse, lo cual no significa que la tarea de consolidación y desarrollo democrático haya terminado. El presente artículo forma parte de una serie de entregas que pretenden aportar una visión interdisciplinaria del concepto. Corresponde esta primera colaboración a un análisis descriptivo de la transparencia a partir de su dimensión jurídica.
The recent democratic development process in Mexico has been accompanied of several policies to enhance civic participation and to strength government accountability. One of those actions was the enactment of the Federal Law of Governmental Transparency and Access of Information, during president Fox administration. Those actions took part in a context of international promotion of right to know acts and policies. It´s seems that transparency just arrived to stay for a long time, but that doesn´t mean that our democratic consolidation has reach an end. The present essay is part of a set of articles that seek to promote an interdisciplinary approach to transparency. Particularly, the present article corresponds to a descriptive analysis of transparency from a legal perspective.
Keywords
Transparencia,
Acceso a la información
Publication Date
December, 2012
Citation Information
Rafael Ramírez Villaescusa. "¿Qué es transparencia?"
Biolex. Revista del Departamento de Derecho de la Universidad de Sonora
Vol. 7 (2012)
Available at: http://works.bepress.com/ramirezvillaescusa/3/