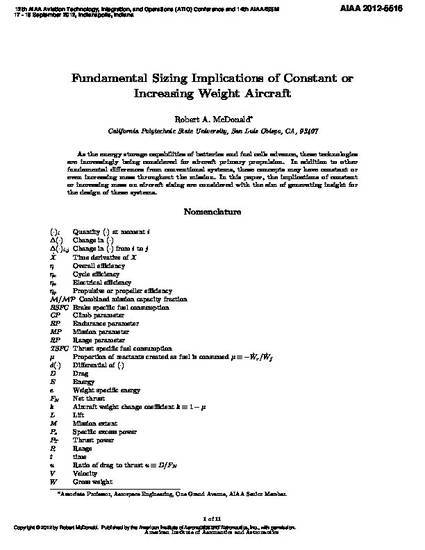 Article
Fundamental Sizing Implications of Constant or Increasing Weight Aircraft
12th AIAA Aviation Technology, Integration, and Operations (ATIO) Conference and 14th AIAA/ISSM Proceedings: Indianapolis, IN (2012)
Abstract
As the energy storage capabilities of batteries and fuel cells advance, these technologies are increasingly being considered for aircraft primary propulsion. In addition to other fundamental differences from conventional systems, these concepts may have constant or even increasing mass throughout the mission. In this paper, the implications of constant or increasing mass on aircraft sizing are considered with the aim of generating insight for the design of these systems.
Publication Date
September 17, 2012
Citation Information
Robert A. McDonald. "Fundamental Sizing Implications of Constant or Increasing Weight Aircraft"
12th AIAA Aviation Technology, Integration, and Operations (ATIO) Conference and 14th AIAA/ISSM Proceedings: Indianapolis, IN
(2012)
Available at: http://works.bepress.com/ramcdona/23/