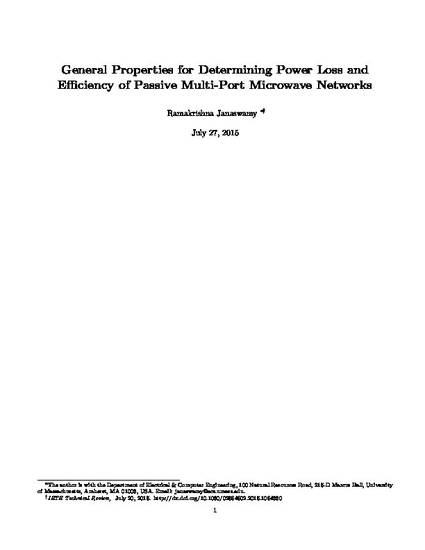 Article
General Properties for Determining Power Loss and Efficiency of Passive Multi-Port Microwave Networks
IETE Technical Review (2015)
Abstract
Starting from the scattering matrix formulation, three useful properties are derived that characterize the dissipative loss and the corresponding efficiency of a multiport, passive microwave network. Elementary examples are considered that involve both reciprocal and non-reciprocal networks to demonstrate the utility of the expressions provided. When applied to the equal-split, matched, 3-port resistive divider, they recover the known fact that the device is 50% efficient. The relations yield the new result that the efficiency of a 3-port Wilkinson power divider is 2/3 on the average. Using the results presented it is further shown that the Wilkinson power divider belongs to a class of most efficient, matched, reciprocal 3-port networks that are constrained to provide maximum isolation at the output ports.
Keywords
Efficiency,
scattering matrix,
passive microwave network,
dissipation,
hypersphere,
eigenanalysis
Citation Information
Ramakrishna Janaswamy. "General Properties for Determining Power Loss and Efficiency of Passive Multi-Port Microwave Networks"
IETE Technical Review
(2015)
Available at: http://works.bepress.com/ramakrishna_janaswamy/1/