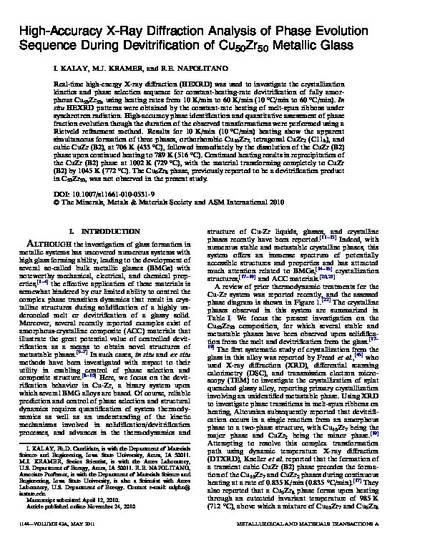 Article
High-Accuracy X-Ray Diffraction Analysis of Phase Evolution Sequence During Devitrification of Cu50Zr50 Metallic Glass
Metallurgical and Materials Transactions A
Publication Date
11-24-2010
DOI
10.1007/s11661-010-0531-9
Abstract
Real-time high-energy X-ray diffraction (HEXRD) was used to investigate the crystallization kinetics and phase selection sequence for constant-heating-rate devitrification of fully amorphous Cu50Zr50, using heating rates from 10 K/min to 60 K/min (10 °C/min to 60 °C/min). In situ HEXRD patterns were obtained by the constant-rate heating of melt-spun ribbons under synchrotron radiation. High-accuracy phase identification and quantitative assessment of phase fraction evolution though the duration of the observed transformations were performed using a Rietveld refinement method. Results for 10 K/min (10 °C/min) heating show the apparent simultaneous formation of three phases, orthorhombic Cu10Zr7, tetragonal CuZr2 (C11b), and cubic CuZr (B2), at 706 K (433 °C), followed immediately by the dissolution of the CuZr (B2) phase upon continued heating to 789 K (516 °C). Continued heating results in reprecipitation of the CuZr (B2) phase at 1002 K (729 °C), with the material transforming completely to CuZr (B2) by 1045 K (772 °C). The Cu5Zr8 phase, previously reported to be a devitrification product in C50Zr50, was not observed in the present study.
Rights
Copyright 2010 ASM International. This paper was published in Metallurgical and Materials Transactions A, Vol. 42, Issue 5, pp. 1144-1153 and is made available as an electronic reprint with the permission of ASM International. One print or electronic copy may be made for personal use only. Systematic or multiple reproduction, distribution to multiple locations via electronic or other means, duplications of any material in this paper for a fee or for commercial purposes, or modification of the content of this paper are prohibited.
Copyright Owner
ASM International
File Format
application/pdf
Citation Information
I. Kalay, M. J. Kramer and Ralph E. Napolitano. "High-Accuracy X-Ray Diffraction Analysis of Phase Evolution Sequence During Devitrification of Cu50Zr50 Metallic Glass"
Metallurgical and Materials Transactions A
Vol. 42 Iss. 5 (2010) p. 1144 - 1153
Available at: http://works.bepress.com/ralph_napolitano/20/