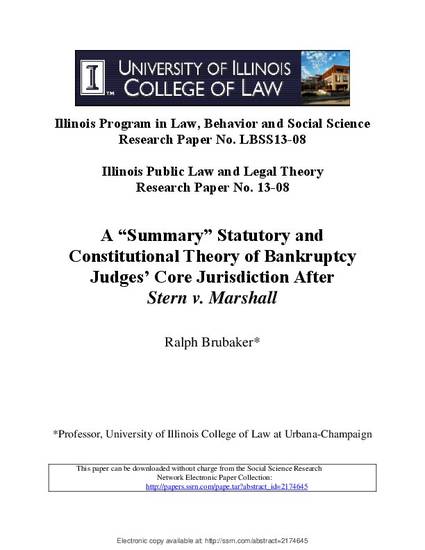 Article
A 'Summary' Statutory and Constitutional Theory of Bankruptcy Judges' Core Jurisdiction After Stern v. Marshall
American Bankruptcy Law Journal (2012)
Abstract
This article explores the implications of the Supreme Court's Stern v. Marshall decision, both from an "internal" bankruptcy perspective and in the context of the Court's still-evolving general jurisprudence of non-Article III adjudications. The article concludes that the decision is best understood as essentially constitutionalizing the historical distinction between summary bankruptcy proceedings considered appropriate for adjudication by inferior tribunals, on the one hand, and plenary suits against adverse claimants that could only be tried in the superior courts of law or equity, on the other. Not only was this distinction firmly embedded in English bankruptcy practice contemporaneous with the Founding, but the Supreme Court itself employed this distinction in its jurisprudence placing prudential limitations upon the adjudicatory authority of non-Article III referees in bankruptcy under the long-lived Bankruptcy Act of 1898. This suggests that a historical explanation for the permissible adjudicatory powers of non-Article III bankruptcy judges (favored by Justice Scalia) may ultimately prevail over Justice Brennan's flirtations with an account grounded in a public rights theory.
Publication Date
Winter 2012
Citation Information
Ralph Brubaker. "A 'Summary' Statutory and Constitutional Theory of Bankruptcy Judges' Core Jurisdiction After Stern v. Marshall"
American Bankruptcy Law Journal
Vol. 86 (2012) p. 121
Available at: http://works.bepress.com/ralph_brubaker/3/