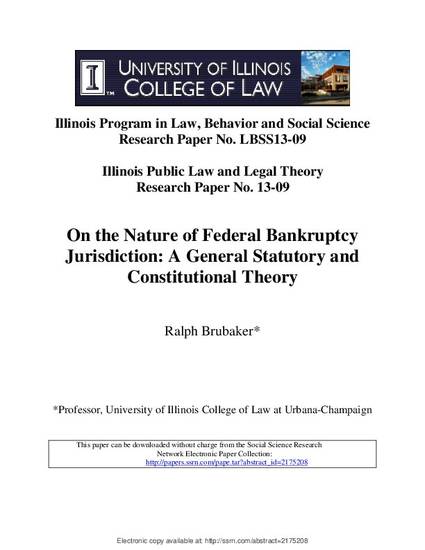 Article
On the Nature of Federal Bankruptcy Jurisdiction: A General Statutory and Constitutional Theory
William and Mary Law Review (2000)
Abstract
Bankruptcy jurisdiction, occupying a seemingly obscure and specialized nook in the federal courthouse, is actually quite important in terms of rationalizing the full constitutional expanse of federal jurisdiction over state-law claims. Bankruptcy has been one of the primary examples proffered in support of constitutional theories such as protective jurisdiction and unconventional approaches to supplemental jurisdiction. Neither the Supreme Court nor scholars, though, have formulated a satisfactory constitutional explanation for the source and limits of federal bankruptcy jurisdiction in all its various permutations. This article is the first scholarly effort to develop a comprehensive theory of federal bankruptcy jurisdiction that integrates constitutional theory with an interpretive theory for the bankruptcy jurisdiction statute. Through a careful historical study of the development of federal bankruptcy jurisdiction, and relying upon settled principles of federal jurisdiction, this article constructs an amazingly simple constitutional theory of federal bankruptcy jurisdiction. By reconceptualizing the fundamental jurisdictional unit in bankruptcy as an individual "proceeding" raising a justiciable controversy between adverse parties, rather than the entire bankruptcy "case" concerning a particular debtor, the entirety of federal bankruptcy jurisdiction is easily explained though a straightforward, orthodox application of traditional federal jurisdiction theory. All state-law claims by and against the federal bankruptcy "estate" are constitutional federal questions under an Osborn federal entity theory, and third-party "related to" claims are conventional Gibbs supplemental claims.
This systematic articulation of the constitutional foundations for federal bankruptcy jurisdiction is not only a vindication of the durability and versatility of traditional federal jurisdiction theory, but it also holds the solution to several knotty problems of statutory interpretation concerning the scope of federal bankruptcy jurisdiction. The simplicity of the resulting constitutional theory permits direct incorporation of constitutional principles into a theory for interpretation of the bankruptcy jurisdiction statute — an interpretive theory that would not only vastly simplify jurisdictional inquiries, but that also accommodates the discernible tensions that have manifested in the case law. The simple, but robust theory developed in this article simultaneously responds to the underlying source of discord in both third-party "related to" bankruptcy jurisdiction and "supplemental" bankruptcy jurisdiction, by revealing the fallacy in that distinction. "Related to" bankruptcy jurisdiction over third-party claims is itself a grant of supplemental jurisdiction that should be construed to encompass any claim sharing a conventional supplemental relationship with (1) a claim created by the Bankruptcy Code, or (2) a claim to which a bankruptcy estate is party.
Citation Information
Ralph Brubaker. "On the Nature of Federal Bankruptcy Jurisdiction: A General Statutory and Constitutional Theory"
William and Mary Law Review
Vol. 41 Iss. 3 (2000) p. 743
Available at: http://works.bepress.com/ralph_brubaker/15/