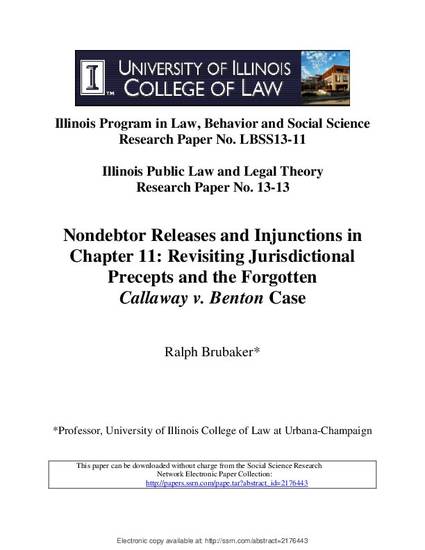 Article
Nondebtor Releases and Injunctions in Chapter 11: Revisiting Jurisdictional Precepts and the Forgotten Callaway v. Benton Case
American Bankruptcy Law Journal (1998)
Abstract
In Callaway v. Benton decided in 1949, the Supreme Court was asked whether a reorganization court could permanently enjoin a state court suit seeking a resolution of the rights and obligations inter se of various nondebtors. Although the reorganization court found that permanently enjoining the litigation was important to the debtor's reorganization effort, the Supreme Court held that this finding provided no basis on which to displace the nonbankruptcy rights and obligations of the nondebtors. Now, over sixty years later, the federal courts are sharply divided on precisely the same issue (although clothed in different terminology): can a reorganization court approve nondebtor release and injunction provisions in a plan of reorganization when the nondebtor release is important to success of the debtor's reorganization?
Of course, bankruptcy law has seen many changes since Callaway, and the scope of federal bankruptcy jurisdiction, which figured prominently in the Callaway opinion, is now greatly expanded. Nonetheless, Callaway's prohibition against permanent non-debtor injunctions retains validity. The clumsy evolution of bankruptcy jurisdiction since Callaway, though, has completely obscured its present-day relevance. The jurisdictional reach of modern bankruptcy injunctions in reorganization proceedings is drawn from principles firmly established when Callaway was decided, and Callaway announced an important limiting principle. Understanding the significance of Callaway requires an understanding of the jurisdictional foundations for bankruptcy injunctions in reorganization cases. After describing the contemporary nondebtor release and the general nature of bankruptcy injunctions, this article explores those jurisdictional precepts and the continuing salience of the neglected Callaway v. Benton case.
Citation Information
Ralph Brubaker. "Nondebtor Releases and Injunctions in Chapter 11: Revisiting Jurisdictional Precepts and the Forgotten Callaway v. Benton Case"
American Bankruptcy Law Journal
Vol. 72 (1998) p. 1
Available at: http://works.bepress.com/ralph_brubaker/13/