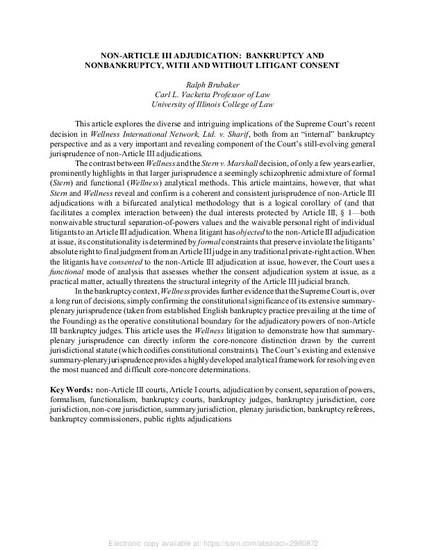 Article
Non-Article III Adjudication: Bankruptcy and Nonbankruptcy, With and Without Litigant Consent
Emory Bankruptcy Developments Journal (2016)
Abstract
This article explores the diverse and intriguing implications of the Supreme Court's recent decision in Wellness International Network, Ltd. v. Sharif, both from an "internal" bankruptcy perspective and as a very important and revealing component of the Court's still-evolving general jurisprudence of non-Article III adjudications.
The contrast between Wellness and the Stern v. Marshall decision, of only a few years earlier, prominently highlights in that larger jurisprudence a seemingly schizophrenic admixture of formal (Stern) and functional (Wellness) analytical methods. This article maintains, however, that what Stern and Wellness reveal and confirm is a coherent and consistent jurisprudence of non-Article III adjudications with a bifurcated analytical methodology that is a logical corollary of (and that facilitates a complex interaction between) the dual interests protected by Article III, § 1 — both nonwaivable structural separation-of-powers values and the waivable personal right of individual litigants to an Article III adjudication. When a litigant has objected to the non-Article III adjudication at issue, its constitutionality is determined by formal constraints that preserve inviolate the litigants' absolute right to final judgment from an Article III judge in any traditional private-right action. When the litigants have consented to the non-Article III adjudication at issue, however, the Court uses a functional mode of analysis that assesses whether the consent adjudication system at issue, as a practical matter, actually threatens the structural integrity of the Article III judicial branch.
In the bankruptcy context, Wellness provides further evidence that the Supreme Court is, over a long run of decisions, simply confirming the constitutional significance of its extensive summary-plenary jurisprudence (taken from established English bankruptcy practice prevailing at the time of the Founding) as the operative constitutional boundary for the adjudicatory powers of non-Article III bankruptcy judges. This article uses the Wellness litigation to demonstrate how that summary-plenary jurisprudence can directly inform the core-noncore distinction drawn by the current jurisdictional statute (which codifies constitutional constraints). The Court's existing and extensive summary-plenary jurisprudence provides a highly developed analytical framework for resolving even the most nuanced and difficult core-noncore determinations.
Citation Information
Ralph Brubaker. "Non-Article III Adjudication: Bankruptcy and Nonbankruptcy, With and Without Litigant Consent"
Emory Bankruptcy Developments Journal
Vol. 33 (2016) p. 11
Available at: http://works.bepress.com/ralph_brubaker/12/