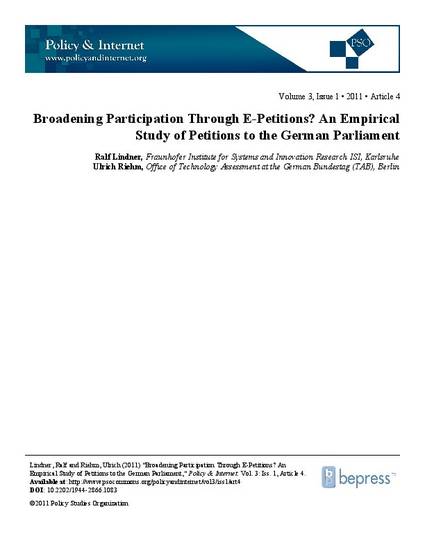 Article
Broadening Participation Through E-Petitions? An Empirical Study of Petitions to the German Parliament
Policy & Internet (2011)
Abstract
Petitioning is a well established form of political participation in most liberal democracies, but little is known about petitioners, their socio-demographics, motivations and assessments of petitioning processes. In 2005, the German parliament introduced public e-petitions which are submitted, signed and discussed on the Internet. This article reports a 2007 survey of 571 traditional and 350 e-petitioners. The results indicate that both petitioner samples are characterised by an above average level of general political participation and Internet use. Users of the e-petition system are younger than traditional petitioners, but the group continues to be dominated by men and those with higher levels of formal education than traditional petitioners. E-petitions seem to amplify existing inequalities in participation patterns as they predominately attract highly mobilised and politically active individuals with a disproportionately high socio-economic status.
Keywords
Electronic democracy; electronic participation; electronic petitions; e-petitions; German Bundestag;
Publication Date
Summer August 10, 2011
Citation Information
Ralf Lindner. "Broadening Participation Through E-Petitions? An Empirical Study of Petitions to the German Parliament"
Policy & Internet
Vol. 3 Iss. 1 (2011)
Available at: http://works.bepress.com/ralf_lindner/5/