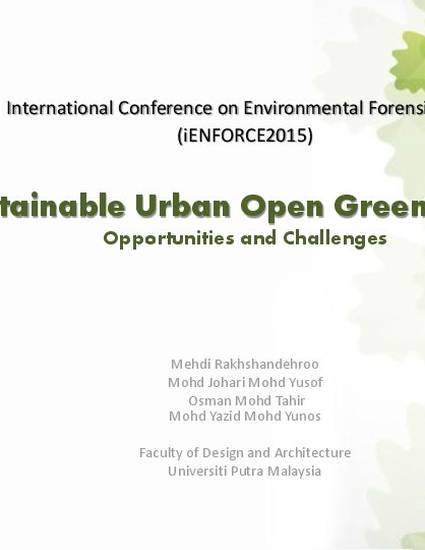 Presentation
Sustainable Urban Open Green Spaces: Opportunities and Challenges
International Conference on Environmental Forensics 2015 (iENFORCE2015) (2015)
Abstract
Shortage of open green spaces has become a common concern in today's compact cities. Based on the literature review, urban open green spaces provide different dimensions of sustainability because of opportunities for social, environmental, and economic benefits which contribute to quality of life in cities. Urban development and renewal should be accompanied with a greening vision, to insert more plantable spaces into the urban fabric. Therefore sustainable urban planning, design and management are needed to improve urban greening strategy. In order to enhance urban greenery, innovative and creative ideas should be applied in urban management, for instance informal open green spaces (e.g. brown-fields, vacant lots, streets and railways) potentially are part of urban nature or a setback along roadsides could create a planting strip and improve the urban landscape. The opportunities which are laid in the sustainable development can improve environmental quality and consequently the quality of life.
Keywords
urban green space,
sustainable development,
urban open space
Citation Information
Mehdi Rakhshandehroo, Mohd Johari Mohd Yusof, Osman Mohd Tahir and Mohd Yazid Mohd Yunos. "Sustainable Urban Open Green Spaces: Opportunities and Challenges"
International Conference on Environmental Forensics 2015 (iENFORCE2015)
(2015)
Available at: http://works.bepress.com/rakhshandehroo/10/