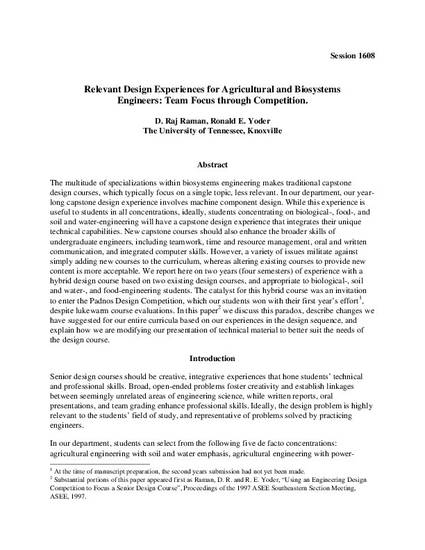 Presentation
Relevant Design Experiences for Agricultural and Biosystems Engineers: Team Focus through Competition
ASEE Annual Conference and Exposition (1997)
Abstract
The multitude of specializations within biosystems engineering makes traditional capstone design courses, which typically focus on a single topic, less relevant. In our department, our year-long capstone design experience involves machine component design. While this experience is useful to students in all concentrations, ideally, students concentrating on biological-, food-, and soil and water-engineering will have a capstone design experience that integrates their unique technical capabilities. New capstone courses should also enhance the broader skills of undergraduate engineers, including teamwork, time and resource management, oral and written communication, and integrated computer skills. However, a variety of issues militate against simply adding new courses to the curriculum, whereas altering existing courses to provide new content is more acceptable. We report here on two years (four semesters) of experience with a hybrid design course based on two existing design courses, and appropriate to biological-, soil and water-, and food-engineering students. The catalyst for this hybrid course was an invitation to enter the Padnos Design Competition, which our students won with their first year's effort, despite lukewarm course evaluations. In this paper, we discuss this paradox, describe changes we have suggested for our entire curricula based on our experiences in the design sequence, and explain how we are modifying our presentation of technical material to better suit the needs of the design course.
Publication Date
June, 1997
Citation Information
D. Raj Raman and Ronald E. Yoder. "Relevant Design Experiences for Agricultural and Biosystems Engineers: Team Focus through Competition"
ASEE Annual Conference and Exposition
(1997)
Available at: http://works.bepress.com/raj_raman/42/