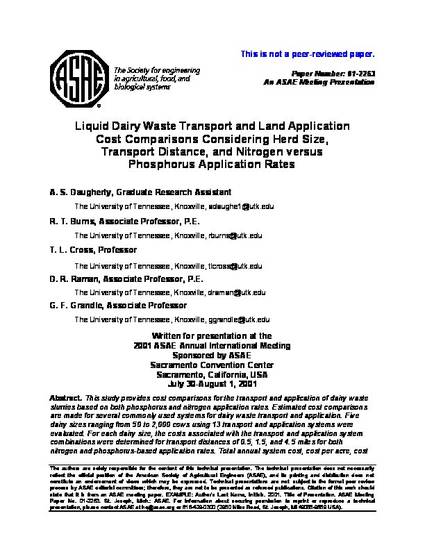 Presentation
Liquid Dairy Waste Transport and Land Application Cost Comparisons Considering Herd Size, Transport Distance, and Nitrogen versus Phosphorus Application Rates
2001 ASAE Annual International Meeting (2001)
Abstract
This study provides cost comparisons for the transport and application of dairy waste slurries based on both phosphorus and nitrogen application rates. Estimated cost comparisons are made for several commonly used systems for dairy waste transport and application. Five dairy sizes ranging from 50 to 2,000 cows using 13 transport and application systems were evaluated. For each dairy size, the costs associated with the transport and application system combinations were determined for transport distances of 0.5, 1.5, and 4.5 miles for both nitrogen and phosphorus-based application rates. Total annual system cost, cost per acre, cost per cow, and manure value as fertilizer per acre based on nutrient requirements for a 20-ton per acre corn silage crop were calculated. Results indicate that depending on transport and application system choice, transport distance, and operation herd size, phosphorus-based applications caused cost increases of 5 to 60% over nitrogen-based application rates, an amount that could be significant to dairy producers.
Keywords
Animal wastes,
application equipment,
cost analysis,
economics,
nitrogen
Publication Date
July, 2001
Citation Information
Robert T. Burns, A. S. Daugherty, T. L. Cross, D. Raj Raman, et al.. "Liquid Dairy Waste Transport and Land Application Cost Comparisons Considering Herd Size, Transport Distance, and Nitrogen versus Phosphorus Application Rates"
2001 ASAE Annual International Meeting
(2001)
Available at: http://works.bepress.com/raj_raman/36/