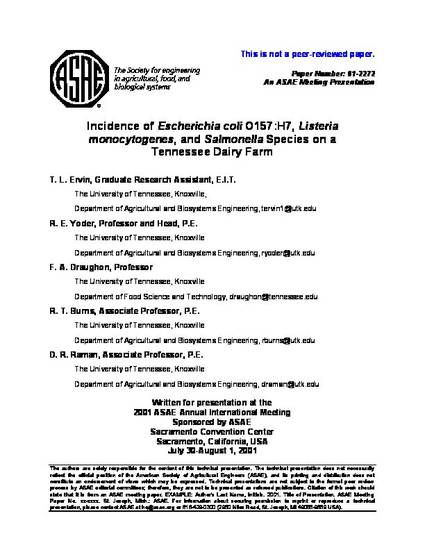 Presentation
Incidence of Escherichia coli O157:H7, Listeria monocytogenes , and Salmonella Species on a Tennessee Dairy Farm
2001 ASAE Annual International Meeting (2001)
Abstract
In response to public awareness of foodborne pathogens due to recent outbreaks of illness, a study was conducted on the incidence of Escherichia coli O157:H7, Listeria monocytogenes , and Salmonella species on a dairy farm in middle Tennessee. Sampling locations included water samples from up- and down-stream in a creek running through the farm, free stall bedding, silage, separator liquids, separator solids, pumped liquid from a holding pond, feed, and bulk tank milk. Three samples were taken monthly at each location for 12 months. These samples were tested to determine the incidence of pathogens on the dairy farm and to identify seasonal trends in pathogen presence. No E. coli O157:H7 was found in any of the samples. L. monocytogenes was present most often in the pumped holding pond liquid and the separator liquid, with each producing positives in 31% of the samples. The bedding and silage samples were negative for L. monocytogenes for the entire testing period. A possible seasonal trend was identified in L. monocytogenes , with more positive samples collected during cooler months. Salmonella were ubiquitous in pumped liquid, with 34 (94%) of the 36 samples testing positive; separator liquid and separator solid samples returned Salmonella positives on 72% and 81%, respectively. The downstream samples yielded 27% positives, whereas the upstream samples identified 42% Salmonella positive. After testing was completed, locations associated with waste, such as the manure solids separator and the holding pond, were identified as potential control points for L. monocytogenes and Salmonella.
Keywords
Pathogens,
HACCP,
hazard-analysis,
seasonal-effects,
critical-control-points
Publication Date
July, 2001
Citation Information
T. L. Ervin, R. E. Yoder, F. A. Draughon, Robert T. Burns, et al.. "Incidence of Escherichia coli O157:H7, Listeria monocytogenes , and Salmonella Species on a Tennessee Dairy Farm"
2001 ASAE Annual International Meeting
(2001)
Available at: http://works.bepress.com/raj_raman/35/