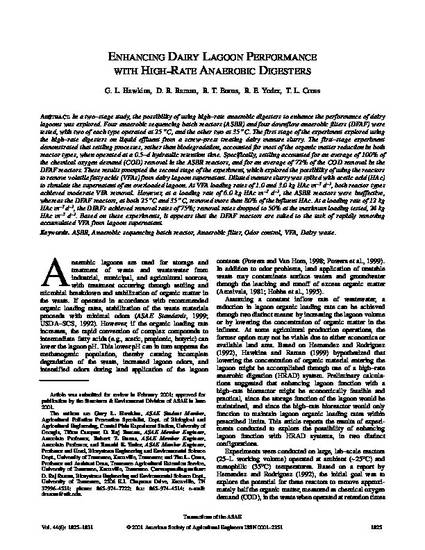 Article
Enhancing Dairy Lagoon Performance with High-Rate Anaerobic Digesters
Transactions of the ASAE (2001)
Abstract
In a two–stage study, the possibility of using high–rate anaerobic digesters to enhance the performance of dairy lagoons was explored. Four anaerobic sequencing batch reactors (ASBR) and four downflow anaerobic filters (DFAF) were tested, with two of each type operated at 25C, and the other two at 35C. The first stage of the experiment explored using the high–rate digesters on liquid effluent from a screw–press treating dairy manure slurry. The first–stage experiment demonstrated that settling processes, rather than biodegradation, accounted for most of the organic matter reduction in both reactor types, when operated at a 0.5–d hydraulic retention time. Specifically, settling accounted for an average of 100% of the chemical oxygen demand (COD) removal in the ASBR reactors, and for an average of 72% of the COD removal in the DFAF reactors. These results prompted the second stage of the experiment, which explored the possibility of using the reactors to remove volatile fatty acids (VFAs) from dairy lagoon supernatant. Diluted manure slurry was spiked with acetic acid (HAc) to simulate the supernatant of an overloaded lagoon. At VFA loading rates of 1.0 and 3.0 kg HAc m –3 d –1 , both reactor types achieved moderate VFA removal. However, at a loading rate of 6.0 kg HAc m –3 d –1 , the ASBR reactors were ineffective, whereas the DFAF reactors, at both 25C and 35C, removed more than 80% of the influent HAc. At a loading rate of 12 kg HAc m –3 d –1 , the DFAFs achieved removal rates of 75%; removal rates dropped to 50% at the maximum loading tested, 24 kg HAc m –3 d –1 . Based on these experiments, it appears that the DFAF reactors are suited to the task of rapidly removing accumulated VFA from lagoon supernatant.
Keywords
ASBR,
Anaerobic sequencing batch reactor,
Anaerobic filter,
Odor control,
VFA,
Dairy waste
Citation Information
Gary L. Hawkins, D. Raj Raman, Robert T. Burns, Ronald E. Yoder, et al.. "Enhancing Dairy Lagoon Performance with High-Rate Anaerobic Digesters"
Transactions of the ASAE
Vol. 44 Iss. 6 (2001)
Available at: http://works.bepress.com/raj_raman/33/