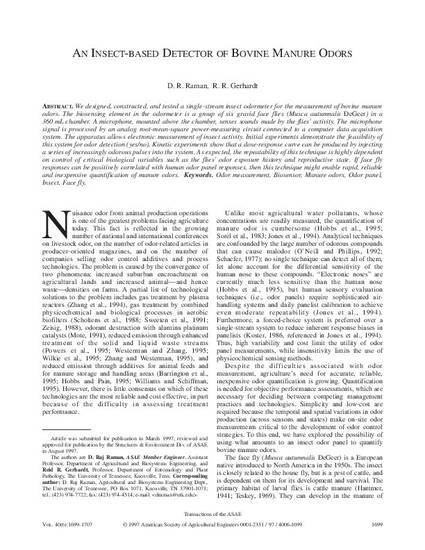 Article
An Insect-based Detector of Bovine Manure Odors
Transactions of the ASAE (1997)
Abstract
We designed, constructed, and tested a single-stream insect odormeter for the measurement of bovine manure odors. The biosensing element in the odormeter is a group of six gravid face flies (Musca autumnalis DeGeer) in a 360 mL chamber. A microphone, mounted above the chamber, senses sounds made by the flies' activity. The microphone signal is processed by an analog root-mean-square power-measuring circuit connected to a computer data acquisition system. The apparatus allows electronic measurement of insect activity. Initial experiments demonstrate the feasibility of this system for odor detection (yes/no). Kinetic experiments show that a dose-response curve can be produced by injecting a series of increasingly odorous pulses into the system. As expected, the repeatability of this technique is highly dependent on control of critical biological variables such as the flies' odor exposure history and reproductive state. If face fly responses can be positively correlated with human odor panel responses, then this technique might enable rapid, reliable and inexpensive quantification of manure odors.
Keywords
Odor measurement,
Biosensor,
Manure odors,
Odor panel,
Insect,
Face fly
Citation Information
D. Raj Raman and Reid R. Gerhardt. "An Insect-based Detector of Bovine Manure Odors"
Transactions of the ASAE
Vol. 40 Iss. 6 (1997)
Available at: http://works.bepress.com/raj_raman/30/