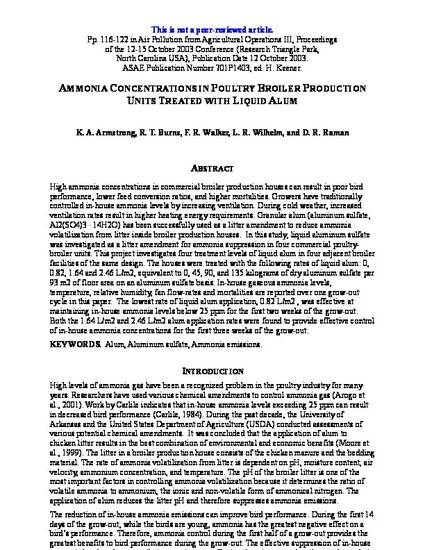 Presentation
Ammonia Concentrations in Poultry Broiler Production Units Treated with Liquid Alum
Air Pollution from Agricultural Operations III (2003)
Abstract
High ammonia concentrations in commercial broiler production houses can result in poor bird performance, lower feed conversion ratios, and higher mortalities. Growers have traditionally controlled in-house ammonia levels by increasing ventilation. During cold weather, increased ventilation rates result in higher heating energy requirements. Granular alum (aluminum sulfate, Al2(SO4)3 · 14H2O) has been successfully used as a litter amendment to reduce ammonia volatilization from litter inside broiler production houses. In this study, liquid aluminum sulfate was investigated as a litter amendment for ammonia suppression in four commercial poultry-broiler units. This project investigates four treatment levels of liquid alum in four adjacent broiler facilities of the same design. The houses were treated with the following rates of liquid alum: 0, 0.82, 1.64 and 2.46 L/m2, equivalent to 0, 45, 90, and 135 kilograms of dry aluminum sulfate per 93 m2 of floor area on an aluminum sulfate basis. In-house gaseous ammonia levels, temperature, relative humidity, fan flow-rates and mortalities are reported over one grow-out cycle in this paper. The lowest rate of liquid alum application, 0.82 L/m2 , was effective at maintaining in-house ammonia levels below 25 ppm for the first two weeks of the grow-out. Both the 1.64 L/m2 and 2.46 L/m2 alum application rates were found to provide effective control of in-house ammonia concentrations for the first three weeks of the grow-out.
Keywords
Alum,
Aluminum sulfate,
Ammonia emissions
Publication Date
October, 2003
Citation Information
K. A. Armstrong, Robert T. Burns, F. R. Walker, L. R. Wilhelm, et al.. "Ammonia Concentrations in Poultry Broiler Production Units Treated with Liquid Alum"
Air Pollution from Agricultural Operations III
(2003)
Available at: http://works.bepress.com/raj_raman/29/