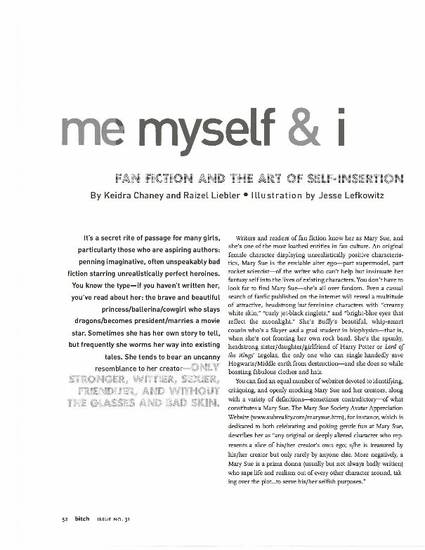 Popular Press
Me, myself, and I: Fan fiction and the art of self-insertion
Bitch: Feminist Response to Pop Culture (2006)
Abstract
Writers and readers of fan fiction know Mary Sue, and she's one of the most loathed entities in fan culture. An original female character displaying unrealistically positive characteristics, Mary Sue is the enviable alter ego-part supermodel, part rocket scientist-of the writer who can't help but insinuate her fantasy self into the lives of existing characters. You don't have to look far to find Mary Sue-she's all over fandom. Even a casual search of fanfic published on the intemet will reveal a multitude of attractive, headstrong but feminine characters with "creamy white skin," "curly jet-black ringlets," and "bright-blue eyes that reflect the moonlight."
Citation Information
Keidra Chaney and Raizel Liebler. "Me, myself, and I: Fan fiction and the art of self-insertion"
Bitch: Feminist Response to Pop Culture
Vol. 31 (2006) p. 52 - 57
Available at: http://works.bepress.com/raizelliebler/14/