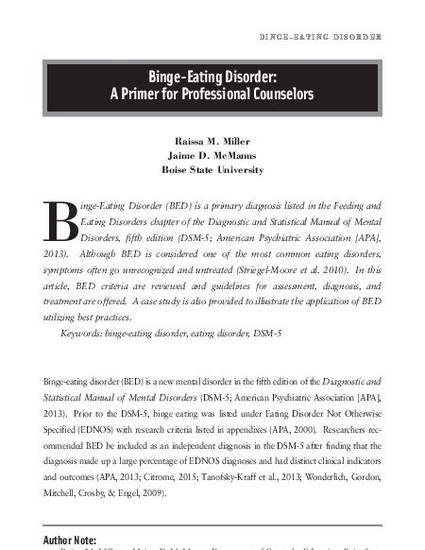 Article
Binge-Eating Disorder: A Primer for Professional Counselors
Journal of Professional Counseling: Practice, Theory & Research
Publication Date
1-1-2016
Abstract
Binge-Eating Disorder (BED) is a primary diagnosis listed in the Feeding and Eating Disorders chapter of the Diagnostic and Statistical Manual of Mental Disorders, fifth edition (DSM-5; American Psychiatric Association [APA], 2013). Although BED is considered one of the most common eating disorders, symptoms often go unrecognized and untreated (Striegel-Moore et al. 2010). In this article, BED criteria are reviewed and guidelines for assessment, diagnosis, and treatment are offered. A case study is also provided to illustrate the application of BED utilizing best practices.
Copyright Statement
This document was originally published in Journal of Professional Counseling: Practice, Theory & Research by Texas Counseling Association. Copyright restrictions may apply.
Citation Information
Raissa M. Miller and Jaime D. McManus. "Binge-Eating Disorder: A Primer for Professional Counselors"
Journal of Professional Counseling: Practice, Theory & Research
(2016)
Available at: http://works.bepress.com/raissa_miller/10/