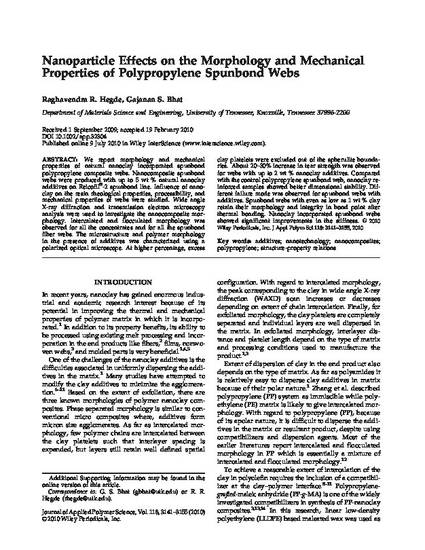 Article
Nanoparticle Effects on the Morphology and MechanicalProperties of Polypropylene Spunbond Webs
Journal ofAppliedPolymer Science (2010)
Abstract
We report morphology and mechanical properties of natural nanoclay incorporated spunbond polypropylene composite webs. Nanocomposite spunbond webs were produced with up to 5 wt % natural nanoclay additives on ReicofilVR -2 spunbond line. Influence of nanoclay on the resin rheological properties, processibility, and mechanical properties of webs were studied. Wide angle X-ray diffraction and transmission electron microscopy analysis were used to investigate the nanocomposite morphology. Intercalated and flocculated morphology was observed for all the concentrates and for all the spunbond fiber webs. The microstructure and polymer morphology in the presence of additives was characterized using a polarized optical microscope. At higher percentage, excessclay platelets were excluded out of the spherulite boundaries. About 20–30% increase in tear strength was observed for webs with up to 2 wt % nanoclay additives. Compared with the control polypropylene spunbond web, nanoclay reinforced samples showed better dimensional stability. Different failure mode was observed for spunbond webs with additives. Spunbond webs with even as low as 1 wt % clay retain their morphology and integrity in bond point after thermal bonding. Nanoclay incorporated spunbond webs showed significant improvements in the stiffness.
Keywords
additives; nanotechnology; nanocomposites; spunbond web,
nonwoven nanocomposite
Publication Date
Winter February 19, 2010
Citation Information
Raghavendra Hegde and Gajanan S Bhat. "Nanoparticle Effects on the Morphology and MechanicalProperties of Polypropylene Spunbond Webs"
Journal ofAppliedPolymer Science
(2010)
Available at: http://works.bepress.com/raghavendra_hegde/6/