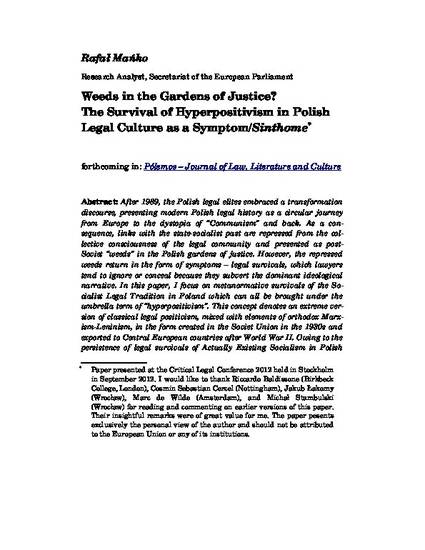 Article
Weeds in the Gardens of Justice? The Survival of Hyperpositivism in PolishLegal Culture as a Symptom/Sinthome (forthcoming)
Polemos - Journal of Law, Literature and Culture (2013)
Abstract
After 1989, the Polish legal elites embraced a transformation discourse, presenting modern Polish legal history as a circular journey from Europe to the dystopia of "Communism" and back. As a con­sequence, links with the state-­socialist past are repressed from the col­lective consciousness of the legal community and presented as post­-Soviet "weeds" in the Polish gardens of justice. However, the repressed weeds return in the form of symptoms – legal survivals, which lawyers tend to ignore or conceal because they subvert the dominant ideological narrative. In this paper, I focus on metanormative survivals of the So­cialist Legal Tradition in Poland which can all be brought under the umbrella term of "hyperpositivism". This concept denotes an extreme ver­sion of classical legal positivism, mixed with elements of orthodox Marx­ism­-Leninism, in the form created in the Soviet Union in the 1930s and exported to Central European countries after World War II. Owing to the persistence of legal survivals of Actually Existing Socialism in Polish legal culture, the paper argues for their reappraisal by resorting to a metaphorical reconceptualisation on the basis of selected mappings from the source domain of Lacanian psychoanalysis.
Keywords
hyperpositivism,
Socialist Legal Tradition,
legal survivals,
Poland
Citation Information
Rafal Manko. "Weeds in the Gardens of Justice? The Survival of Hyperpositivism in PolishLegal Culture as a Symptom/Sinthome (forthcoming)"
Polemos - Journal of Law, Literature and Culture
(2013)
Available at: http://works.bepress.com/rafal_manko/8/