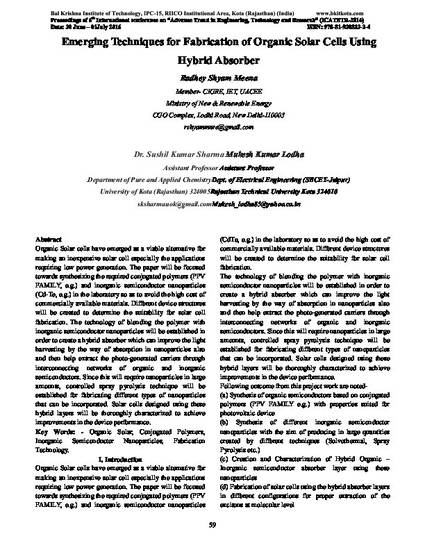 Article
Emerging Techniques for Fabrication of Organic Solar Cells Using Hybrid Absorber
6th International Conference on "Advance Trends in Engineering, Technology and Research" (ICATETR-2016) (2016)
Abstract
Organic Solar cells have emerged as a viable alternative for making an inexpensive solar cell especially the applications requiring low power generation. The paper will be focused towards synthesizing the required conjugated polymers (PPV FAMILY, e.g.) and inorganic semiconductor nanoparticles (Cd-Te, e.g.) in the laboratory so as to avoid the high cost of commercially available materials. Different device structures will be created to determine the suitability for solar cell fabrication. The technology of blending the polymer with inorganic semiconductor nanoparticles will be established in order to create a hybrid absorber which can improve the light harvesting by the way of absorption in nanoparticles also and then help extract the photo-generated carriers through  interconnecting networks of organic and inorganic semiconductors. Since this will require nanoparticles in large amounts, controlled spray pyrolysis technique will be established for fabricating different types of nanoparticles that can be incorporated. Solar cells designed using these hybrid layers will be thoroughly characterized to achieve improvements in the device performance.
Keywords
Organic Solar,
Conjugated Polymers,
Inorganic Semiconductor Nanoparticles,
Fabrication Technology
Publication Date
Spring July 30, 2016
Citation Information
Radhey Shyam Meena. "Emerging Techniques for Fabrication of Organic Solar Cells Using Hybrid Absorber"
6th International Conference on "Advance Trends in Engineering, Technology and Research" (ICATETR-2016)
(2016) p. 59 - 63
Available at: http://works.bepress.com/radhey_meena/18/