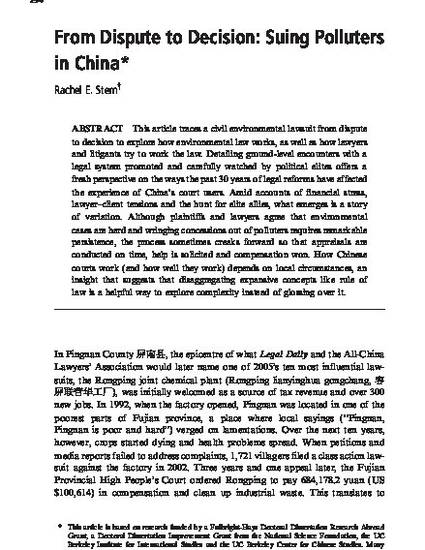 Article
From Dispute to Decision: Suing Polluters in China
China Quarterly
Publication Date
6-30-2011
Abstract
This article traces a civil environmental lawsuit from dispute to decision to explore how environmental law works, as well as how lawyers and litigants try to work the law. Detailing ground-level encounters with a legal system promoted and carefully watched by political elites offers a fresh perspective on the ways the past 30 years of legal reforms have affected the experience of China's court users. Amid accounts of financial stress, lawyer–client tensions and the hunt for elite allies, what emerges is a story of variation. Although plaintiffs and lawyers agree that environmental cases are hard and wringing concessions out of polluters requires remarkable persistence, the process sometimes creaks forward so that appraisals are conducted on time, help is solicited and compensation won. How Chinese courts work (and how well they work) depends on local circumstances, an insight that suggests that disaggregating expansive concepts like rule of law is a helpful way to explore complexity instead of glossing over it.
Citation Information
Rachel E. Stern. "From Dispute to Decision: Suing Polluters in China"
China Quarterly
Vol. 206 (2011) p. 294
Available at: http://works.bepress.com/rachel_stern/3/