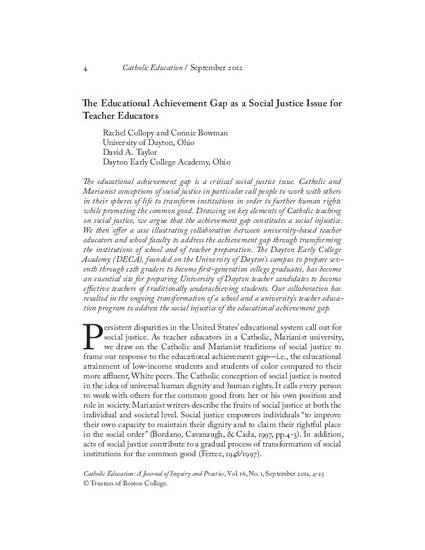 Article
The Educational Achievement Gap as a Social Justice Issue for Teacher Educators
Catholic Education: A Journal of Inquiry and Practice
Publication Date
9-1-2012
Abstract
The educational achievement gap is a critical social justice issue. Catholic and Marianist conceptions of social justice in particular call people to work with others in their spheres of life to transform institutions in order to further human rights while promoting the common good. Drawing on key elements of Catholic teaching on social justice, we argue that the achievement gap constitutes a social injustice. We then offer a case illustrating collaboration between university-based teacher educators and school faculty to address the achievement gap through transforming the institutions of school and of teacher preparation. The Dayton Early College Academy (DECA), founded on the University of Dayton's campus to prepare seventh through 12th graders to become first-generation college graduates, has become an essential site for preparing University of Dayton teacher candidates to become effective teachers of traditionally underachieving students. Our collaboration has resulted in the ongoing transformation of a school and a university's teacher education program to address the social injustice of the educational achievement gap.
Document Version
Published Version
Copyright
Copyright © 2012, Trustees of Boston College; licensed under the Creative Commons Attribution license.
Publisher
Loyola Marymount University Los Angeles
Citation Information
Rachel M. B. Collopy, Connie L. Bowman and David A. Taylor. "The Educational Achievement Gap as a Social Justice Issue for Teacher Educators"
Catholic Education: A Journal of Inquiry and Practice
Vol. 16 Iss. 1 (2012)
Available at: http://works.bepress.com/rachel-collopy/3/