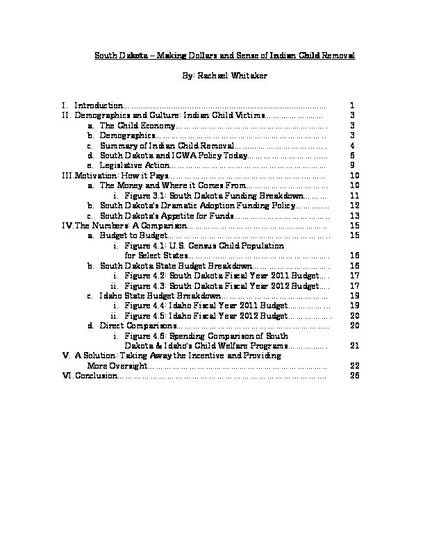 Unpublished Paper
South Dakota: Making Dollars and Sense of Indian Child Removal
ExpressO (2013)
Abstract
South Dakota- Making Dollars and Sense of Indian Child Removal By: Rachael Whitaker In 2004, a South Dakota Governor's Commission report adamantly denied claims that the state's Department of Social Services (DSS) is "harvesting Indian children as a cash crop" and "runs nothing more than a state sponsored kidnapping program." National Public Radio (NPR) broke a story in 2011, claiming South Dakota removed Indian children for profit. Since NPR's report, the state has remained tight-lipped, advocates have threatened litigation, and Congress has asked for answers. South Dakota has a small population and economy, and it receives almost half of its funding from the federal government. More than one-third of those federal funds go to the DSS. Not only does South Dakota receive substantial funds, the DSS spends double the amount spent by states with twice the population of South Dakota. While South Dakota may not be filling its coffers with money from Indian child removal, it is creating jobs to fill the DSS, recruiting more foster families, subsidizing adoptions, and establishing more group homes, thereby funneling money into an almost non-existent state economy. Indian children make up eight percent of South Dakota's child population, yet they make up 60 percent of the state's child foster care population. Each year, South Dakota removes an average of 700 Indian children. While not every removal of an Indian child is unwarranted, it seems clear that South Dakota is motivated to remove Indian children in questionable circumstances.
Keywords
human rights,
race,
law,
justice,
south dakota,
social services,
kidnapping,
indian,
native american,
adoption,
foster care,
poverty,
idaho,
ICWA,
child removal,
minor,
department of social services,
economy
Publication Date
March 5, 2013
Citation Information
Rachael Whitaker. "South Dakota: Making Dollars and Sense of Indian Child Removal"
ExpressO
(2013)
Available at: http://works.bepress.com/rachael_whitaker/1/