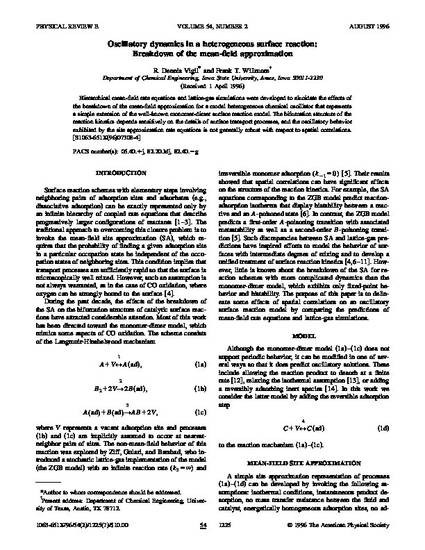 Article
Oscillatory dynamics in a heterogeneous surface reaction: Breakdown of the mean-field approximation
Physical Review E (1996)
Abstract
Hierarchical mean-field rate equations and lattice-gas simulations were developed to elucidate the effects of the breakdown of the mean-field approximation for a model heterogeneous chemical oscillator that represents a simple extension of the well-known monomer-dimer surface reaction model. The bifurcation structure of the reaction kinetics depends sensitively on the details of surface transport processes, and the oscillatory behavior exhibited by the site approximation rate equations is not generally robust with respect to spatial correlations.
Publication Date
April 1, 1996
Citation Information
R. Dennis Vigil and Frank T. Willmore. "Oscillatory dynamics in a heterogeneous surface reaction: Breakdown of the mean-field approximation"
Physical Review E
Vol. 54 Iss. 2 (1996)
Available at: http://works.bepress.com/r_dennis_vigil/6/