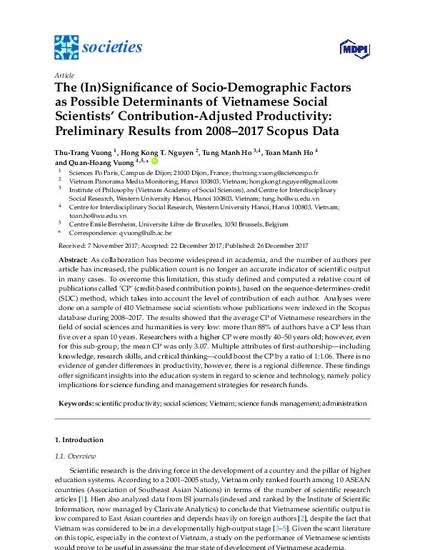 Article
The (In)Significance of Socio-Demographic Factors as Possible Determinants of Vietnamese Social Scientists' Contribution-Adjusted Productivity: Preliminary Results from 2008–2017 Scopus Data
Societies (2018)
Abstract
As collaboration has become widespread in academia, and the number of authors per article has increased, the publication count is no longer an accurate indicator of scientific output in many cases. To overcome this limitation, this study defined and computed a relative count of publications called 'CP' (credit-based contribution points), based on the sequence-determines-credit (SDC) method, which takes into account the level of contribution of each author. Analyses were done on a sample of 410 Vietnamese social scientists whose publications were indexed in the Scopus database during 2008–2017. The results showed that the average CP of Vietnamese researchers in the field of social sciences and humanities is very low: more than 88% of authors have a CP less than five over a span 10 years. Researchers with a higher CP were mostly 40–50 years old; however, even for this sub-group, the mean CP was only 3.07. Multiple attributes of first-authorship—including knowledge, research skills, and critical thinking—could boost the CP by a ratio of 1:1.06. There is no evidence of gender differences in productivity, however, there is a regional difference. These findings offer significant insights into the education system in regard to science and technology, namely policy implications for science funding and management strategies for research funds.
Keywords
scientific productivity,
social sciences,
Vietnam,
science funds management,
administration
Publication Date
Spring March 1, 2018
Citation Information
Thu-Trang Vuong, Hong Kong T. Nguyen, Tung M Ho, Toan Manh Ho, et al.. "The (In)Significance of Socio-Demographic Factors as Possible Determinants of Vietnamese Social Scientists' Contribution-Adjusted Productivity: Preliminary Results from 2008–2017 Scopus Data"
Societies
Vol. 8 Iss. 1 (2018) p. 3 ISSN: 2075-4698
Available at: http://works.bepress.com/quan-hoang-vuong/112/
Creative Commons license
This work is licensed under a Creative Commons CC_BY-SA International License.