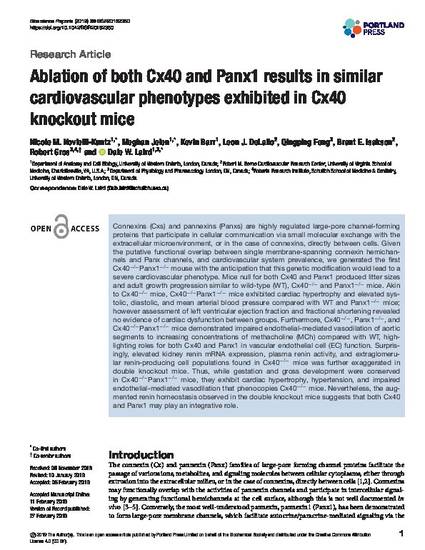 Article
Ablation of both Cx40 and Panx1 results in similar cardiovascular phenotypes exhibited in Cx40 knockout mice
Bioscience Reports
Publication Date
2-28-2019
Abstract
Connexins (Cxs) and pannexins (Panxs) are highly regulated large-pore channel-forming proteins that participate in cellular communication via small molecular exchange with the extracellular microenvironment, or in the case of connexins, directly between cells. Given the putative functional overlap between single membrane-spanning connexin hemichannels and Panx channels, and cardiovascular system prevalence, we generated the first Cx40(-/-)Panx1(-/-) mouse with the anticipation that this genetic modification would lead to a severe cardiovascular phenotype. Mice null for both Cx40 and Panx1 produced litter sizes and adult growth progression similar to wild-type (WT), Cx40(-/-) and Panx1(-/-) mice. Akin to Cx40(-/-) mice, Cx40(-/-) Panx1(-/-) mice exhibited cardiac hypertrophy and elevated systolic, diastolic, and mean arterial blood pressure compared with WT and Panx1(-/-) mice; however assessment of left ventricular ejection fraction and fractional shortening revealed no evidence of cardiac dysfunction between groups. Furthermore, Cx40(-/-), Panx1(-/-), and Cx40(-/-) Panx1(-/-) mice demonstrated impaired endothelial-mediated vasodilation of aortic segments to increasing concentrations of methacholine (MCh) compared with WT, highlighting roles for both Cx40 and Panx1 in vascular endothelial cell (EC) function. Surprisingly, elevated kidney renin mRNA expression, plasma renin activity, and extraglomerular renin-producing cell populations found in Cx40(-/-) mice was further exaggerated in double knockout mice. Thus, while gestation and gross development were conserved in Cx40(-/-) Panx1(-/-) mice, they exhibit cardiac hypertrophy, hypertension, and impaired endothelial-mediated vasodilation that phenocopies Cx40(-/-) mice. Nevertheless, the augmented renin homeostasis observed in the double knockout mice suggests that both Cx40 and Panx1 may play an integrative role.
Creative Commons License
Creative Commons Attribution 4.0
Citation Information
Nicole M Novielli-Kuntz, Meghan L Jelen, Kevin Barr, Leon J DeLalio, et al.. "Ablation of both Cx40 and Panx1 results in similar cardiovascular phenotypes exhibited in Cx40 knockout mice"
Bioscience Reports
Vol. 39 Iss. 2 (2019)
Available at: http://works.bepress.com/qingping-feng/2/