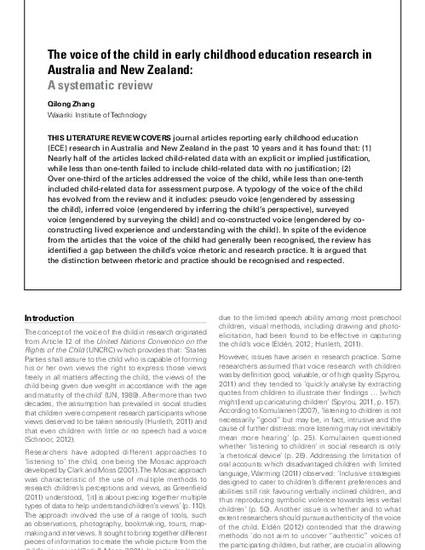 Article
The voice of the child in the early childhood education research in Australia and New Zealand: A systematic review
Australasian Journal of Early Childhood (2015)
Abstract
This literature review covers journal articles reporting early childhood education (ECE) research in Australia and New Zealand in the past 10 years and it has found that: (1) Nearly half of the articles lacked child-related data with an explicit or implied justification, while less than one-tenth failed to include child-related data with no justification; (2) Over one-third of the articles addressed the voice of the child, while less than one-tenth included child-related data for assessment purpose. A typology of the voice of the child has evolved from the review and it includes: pseudo voice (engendered by assessing the child), inferred voice (engendered by inferring the child's perspective), surveyed voice (engendered by surveying the child) and co-constructed voice (engendered by co-constructing lived experience and understanding with the child). In spite of the evidence from the articles that the voice of the child had generally been recognised, the review has identified a gap between the child's voice rhetoric and research practice. It is argued that the distinction between rhetoric and practice should be recognised and respected.
Citation Information
Qilong Zhang. "The voice of the child in the early childhood education research in Australia and New Zealand: A systematic review"
Australasian Journal of Early Childhood
Vol. 40 Iss. 3 (2015)
Available at: http://works.bepress.com/qilong_zhang/4/