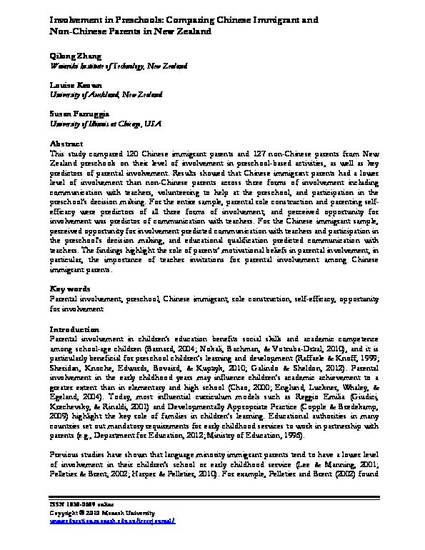 Article
Involvement in preschools: Comparing Chinese immigrant and non-Chinese parents in New Zealand
International Research in Early Childhood Education (2014)
Abstract
This study compared 120 Chinese immigrant parents and 127 non-Chinese parents from New Zealand preschools on their level of involvement in preschool-based activities, as well as key predictors of parental involvement. Results showed that Chinese immigrant parents had a lower level of involvement than non-Chinese parents across three forms of involvement including communication with teachers, volunteering to help at the preschool, and participation in the preschool's decision making. For the entire sample, parental role construction and parenting self-efficacy were predictors of all three forms of involvement, and perceived opportunity for involvement was predictor of communication with teachers. For the Chinese immigrant sample, perceived opportunity for involvement predicted communication with teachers and participation in the preschool's decision making, and educational qualification predicted communication with teachers. The findings highlight the role of parents' motivational beliefs in parental involvement, in particular, the importance of teacher invitations for parental involvement among Chinese immigrant parents.
Keywords
Parental involvement,
preschool,
Chinese immigrant,
role construction,
self-efficacy,
opportunity for involvement
Citation Information
Qilong Zhang. "Involvement in preschools: Comparing Chinese immigrant and non-Chinese parents in New Zealand"
International Research in Early Childhood Education
Vol. 5 Iss. 1 (2014)
Available at: http://works.bepress.com/qilong_zhang/1/