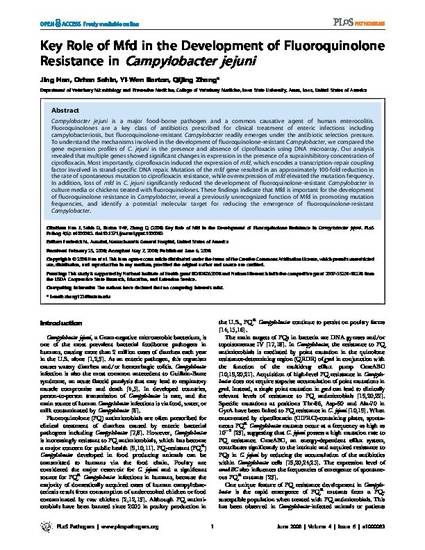 Article
Key Role of Mfd in the Development of Fluoroquinolone Resistance in Campylobacter jejuni
PLoS Pathogens
Publication Version
Published Version
Publication Date
6-6-2008
DOI
10.1371/journal.ppat.1000083
Abstract
Campylobacter jejuni is a major food-borne pathogen and a common causative agent of human enterocolitis. Fluoroquinolones are a key class of antibiotics prescribed for clinical treatment of enteric infections including campylobacteriosis, but fluoroquinolone-resistant Campylobacterreadily emerges under the antibiotic selection pressure. To understand the mechanisms involved in the development of fluoroquinolone-resistant Campylobacter, we compared the gene expression profiles of C. jejuni in the presence and absence of ciprofloxacin using DNA microarray. Our analysis revealed that multiple genes showed significant changes in expression in the presence of a suprainhibitory concentration of ciprofloxacin. Most importantly, ciprofloxacin induced the expression of mfd, which encodes a transcription-repair coupling factor involved in strand-specific DNA repair. Mutation of the mfd gene resulted in an approximately 100-fold reduction in the rate of spontaneous mutation to ciprofloxacin resistance, while overexpression of mfd elevated the mutation frequency. In addition, loss ofmfd in C. jejuni significantly reduced the development of fluoroquinolone-resistantCampylobacter in culture media or chickens treated with fluoroquinolones. These findings indicate that Mfd is important for the development of fluoroquinolone resistance inCampylobacter, reveal a previously unrecognized function of Mfd in promoting mutation frequencies, and identify a potential molecular target for reducing the emergence of fluoroquinolone-resistant Campylobacter.
Rights
This is an open-access article distributed under the terms of the Creative Commons Attribution License, which permits unrestricted use, distribution, and reproduction in any medium, provided the original author and source are credited.
Copyright Owner
Han et al
File Format
application/pdf
Citation Information
Jing Han, Orhan Sahin, Yi-Wen Barton and Qijing Zhang. "Key Role of Mfd in the Development of Fluoroquinolone Resistance in Campylobacter jejuni"
PLoS Pathogens
Vol. 4 Iss. 6 (2008) p. e1000083
Available at: http://works.bepress.com/qijing-zhang/18/