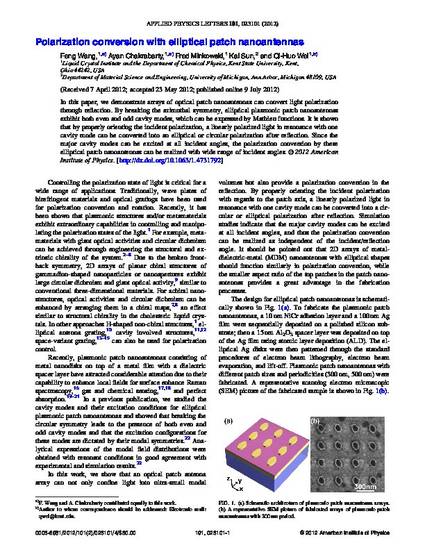 Article
Polarization Conversion with Elliptical Patch Nanoantennas
Applied Physics Letters
Publication Date
7-9-2012
Keywords
infrared perfect absorber,
optical activity,
metamaterials,
light
Abstract
In this paper, we demonstrate arrays of optical patch nanoantennas can convert light polarization through reflection. By breaking the azimuthal symmetry, elliptical plasmonic patch nanoantennas exhibit both even and odd cavity modes, which can be expressed by Mathieu functions. It is shown that by properly orienting the incident polarization, a linearly polarized light in resonance with one cavity mode can be converted into an elliptical or circular polarization after reflection. Since the major cavity modes can be excited at all incident angles, the polarization conversion by these elliptical patch nanoantennas can be realized with wide range of incident angles.
Citation Information
Feng Wang, Ayan Chakrabarty, Fred Minkowski, Kai Sun, et al.. "Polarization Conversion with Elliptical Patch Nanoantennas"
Applied Physics Letters
Vol. 101 Iss. 2 (2012)
Available at: http://works.bepress.com/qi-huo_wei/3/