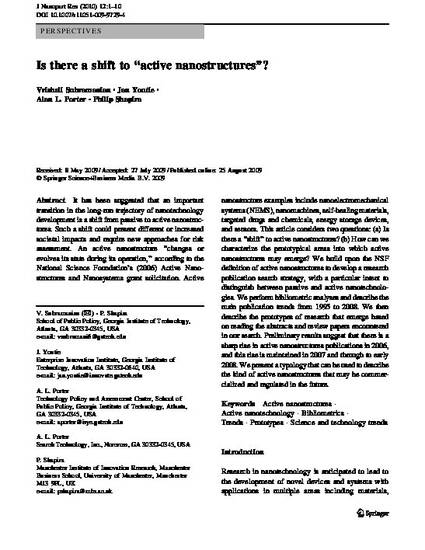 Article
Is there a shift to 'active nanostructures'?
Journal of Nanoparticle Research (2010)
Abstract
It has been suggested that an important transition in the long-run trajectory of nanotechnology discovery and application is a shift from passive to active nanostructures. Such a shift could present increased societal impacts and need new approaches for risk assessment. The National Science Foundation's (NSF) Active Nanostructures and Nanosystems (ANN) grant solicitation defines an active nanostructure as "An active nanostructure changes or evolves its state during its operation." Active nanostructures examples include nanoelectromechanical systems (NEMS), nanomachines, self-healing materials, targeted drugs and chemicals, energy storage devices, and sensors. This paper considers two questions: (1) Is there a "shift" to active nanostructures? (2) How can we characterize the prototypical areas into which active nanostructures may emerge? We build upon the NSF definition of active nanostructures to develop a research publication search strategy, with a particular intent to distinguish between passive and active nanotechnologies. We perform bibliometric analyses and describe the main publication trends from 1995 to 2008. We then describe the prototypes of research that emerge based on reading the abstracts and review papers encountered in our search. Preliminary results suggest that there is a sharp rise in active nanostructures publications in 2006, and this rise is maintained in 2007 and through to early 2008.We present a typology that can be used to describe the kind of active nanostructures that may be commercialized and regulated in the future.
Keywords
active nanostructures,
active nanotechnology,
bibliometrics,
trends,
prototypes,
science and technology trends
Citation Information
Vrishali Subramanian, Alan L Porter, Jan Youtie and Philip Shapira. "Is there a shift to 'active nanostructures'?"
Journal of Nanoparticle Research
Vol. 12 Iss. 1 (2010) p. 1 - 10
Available at: http://works.bepress.com/pshapira/4/