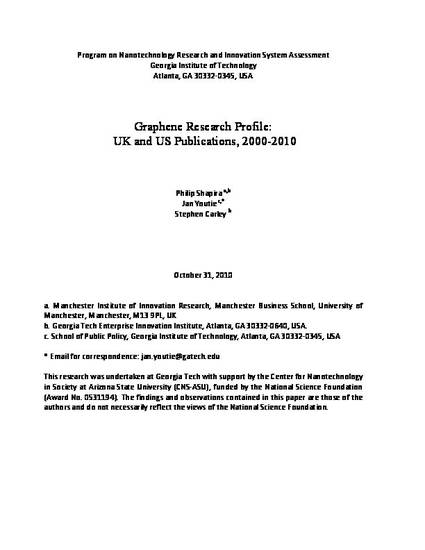 Unpublished Paper
Graphene Research Profile: UK and US Publications, 2000-2010
(2010)
Abstract
In this document we provide an overview of graphene research that appears in the Web of Science (WOS) during the timeframe 2000 to 2010, inclusive. WOS databases that contain graphene research articles include SCI-EXPANDED, SSCI and A&HCI. The search strategy used in this profile was a simple one: all WOS articles from 2000 to 2010 whose title contained the keyword 'graphene' were downloaded and analyzed using VantagePoint textmining software. The search strategy used resulted in a total of 4,706 publications spanning 11 years, 313 journals, 78 countries, 1,433 institutional affiliations and 7,617 authors. After a brief presentation of global results, there is a focus on graphene research in the UK and US.
Keywords
Nanotechnology,
graphene,
United Kingdom,
UK,
United States,
US
Publication Date
October, 2010
Citation Information
Philip Shapira, Jan Youtie, and Stephen Carley. Graphene Research Profile: UK and US Publications, 2000-2010. Program on Nanotechnology Research and Innovation System Assessment, Georgia Institute of Technology Atlanta, GA 30332-0345, USA. October 2010.