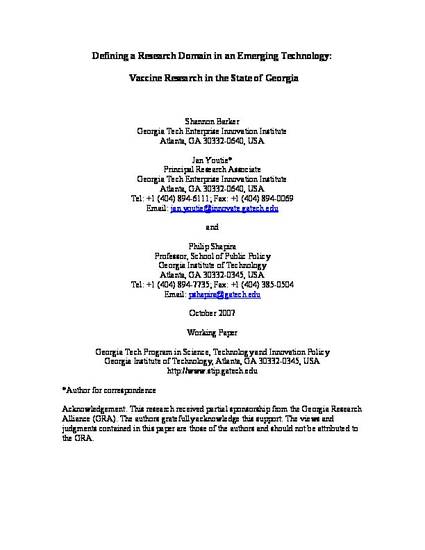 Unpublished Paper
Defining a Research Domain in an Emerging Technology: Vaccine Research in the State of Georgia
(2007)
Abstract
This paper presents an approach for measuring emerging technologies in the context of mature industries. In particular, this article focuses on vaccine-related research. Although vaccines comprise an established industry, new developments in biotechnology have led to emerging area in vaccine R&D, including therapeutic vaccines; subunit and DNA-based vaccines; advances in vaccine delivery; and new methodologies for vaccine design, manufacturing, and testing. Defining this field is challenging because it spans multiple disciplines, including biotechnology, public health, and epidemiology. To gain an understanding of the field as it is related to biomedical research, we focused our study parameters to concentrate on these aspects of vaccine technology. Our empirical work examines vaccine research in our targeted domain in Georgia, USA. We use a multi-dimensional knowledge output approach, employing a combination of measures such as research article publications, citations, patents, and keyword analysis. We identify Georgia's top scientists (and how they are integrated into the overall vaccine research network), top affiliations, commercialization capacity, and specializations and gaps in specific vaccine research areas.
Keywords
Vaccine research; Georgia; bibliometrics
Publication Date
October, 2007
Citation Information
Shannon Barker, Jan Youtie, and Philip Shapira. 2007.
Defining a Research Domain in an Emerging Technology: Vaccine Research in the State of Georgia
. Working Paper. Georgia Tech Program in Science, Technology and Innovation Policy, eorgia Institute of Technology, Atlanta, USA.