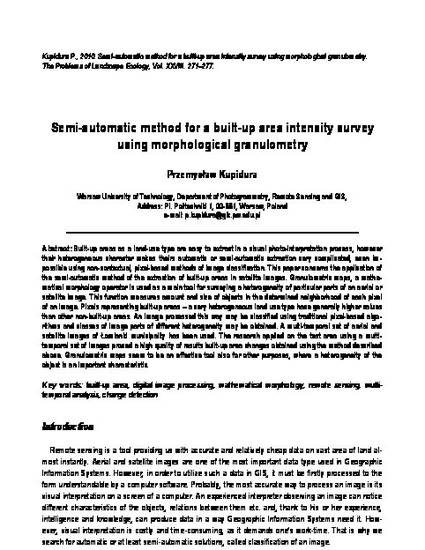 Article
Semi-automatic method for a built-up area intensity survey using morphological granulometry
The Problems of Landscape Ecology (2010)
Abstract
Built-up areas as a land-use type are easy to extract in a visual photo-interpretation process, however their heterogeneous character makes theirs automatic or semi-automatic extraction very complicated, even impossible using non-contextual, pixel-based methods of image classification. This paper concerns the application of the semi-automatic method of the extraction of built-up areas in satellite images. Granulometric maps, a mathematical morphology operator is used as a main tool for surveying a heterogeneity of particular parts of an aerial or satellite image. This function measures amount and size of objects in the determined neighborhood of each pixel of an image. Pixels representing built-up areas – a very heterogeneous land use type have generally higher values than other non-built-up areas. An image processed this way may be classified using traditional pixel-based algorithms and classes of image parts of different heterogeneity may be obtained. A multi-temporal set of aerial and satellite images of Łomianki municipality has been used. The research applied on the test area using a multitemporal set of images proved a high quality of results built-up area changes obtained using the method described above. Granulometric maps seem to be an effective tool also for other purposes, where a heterogeneity of the object is an important characteristic.
Keywords
remote sensing,
mathematical morphology,
contextual classification,
object-based classification,
digital image processing,
granulometric maps,
morphological granulometry
Citation Information
Przemysław Kupidura. "Semi-automatic method for a built-up area intensity survey using morphological granulometry"
The Problems of Landscape Ecology
Vol. XXVIII (2010)
Available at: http://works.bepress.com/przemyslaw_kupidura/9/