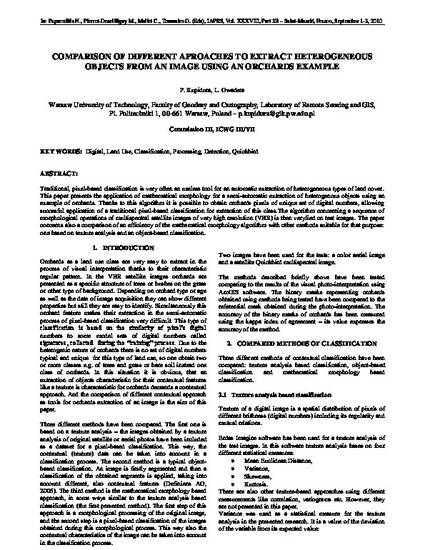 Contribution to Book
COMPARISON OF DIFFERENT APROACHES TO EXTRACT HETEROGENEOUS OBJECTS FROM AN IMAGE USING AN ORCHARDS EXAMPLE
The International Archives of the Photogrammetry, Remote Sensing and Spatial Information Sciences (2010)
Abstract
Traditional, pixel-based classification is very often an useless tool for an automatic extraction of heterogeneous types of land cover. This paper presents the application of mathematical morphology for a semi-automatic extraction of heterogenous objects using an example of orchards. Thanks to this algorithm it is possible to obtain orchards pixels of unique set of digital numbers, allowing succesful application of a traditional pixel-based classification for extraction of this class.The algorithm concerning a sequence of morphological operations of multispectral satellite images of very high resolution (VHR) is then veryfied on test images. The paper concerns also a comparison of an efficiency of the mathematical morphology algorithm with other methods suitable for that purpose: one based on texture analysis and an object-based classification.
Keywords
remote sensing,
mathematical morphology,
contextual classification,
object-based classification,
digital image processing
Editor
Paparoditis N., Pierrot-Deseilligny M., Mallet C., Tournaire O.
Publisher
ISPRS Commission III, Société Française de Photogrammétrie et de Télédétection
Citation Information
Przemysław Kupidura and Gwadera Łukasz. "COMPARISON OF DIFFERENT APROACHES TO EXTRACT HETEROGENEOUS OBJECTS FROM AN IMAGE USING AN ORCHARDS EXAMPLE" Saint-Mandé
The International Archives of the Photogrammetry, Remote Sensing and Spatial Information Sciences
Vol. 38 (2010)
Available at: http://works.bepress.com/przemyslaw_kupidura/4/