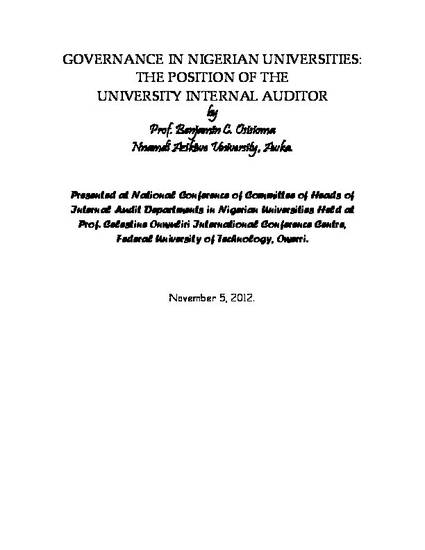 Presentation
GOVERNANCE IN NIGERIAN UNIVERSITIES: THE POSITION OF THE UNIVERSITY INTERNAL AUDITOR
National Conference of Committee of Heads of Internal Audit Departments in Nigerian Universities (2012)
Abstract
The University system is committed to the principles of good governance which ensure that the Institution is 'fit for its purpose' as an organization put in place for teaching, research and consultancy and professional services to the community. The principles demand a response to the challenge of operational dexterity, technical ingenuity, strategic relevance, African persona and political deftness as part of the task of modernization of the governance of higher education. The task of the Internal Auditor is five-fold – to provide transparency and act as an advisory body to senior management, to identify underperforming areas and opportunities for improvement and potential synergies, to consolidate information in a consistent way to maintain an audit trail and facilitate reporting, to include a risk perspective throughout the audit function, and to turn internal audit into an operational governance tool.
Keywords
University system,
Governance,
Higher Education,
Internal Controls,
Internal Audit,
Auditor.
Publication Date
November 5, 2012
Citation Information
Professor Ben C Osisioma. "GOVERNANCE IN NIGERIAN UNIVERSITIES: THE POSITION OF THE UNIVERSITY INTERNAL AUDITOR"
National Conference of Committee of Heads of Internal Audit Departments in Nigerian Universities
(2012)
Available at: http://works.bepress.com/prof_ben_osisioma/4/