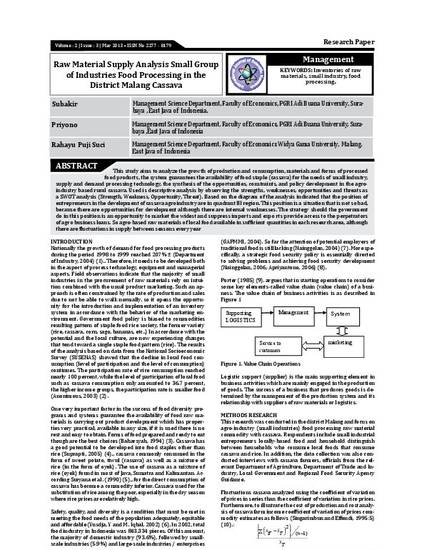 Article
Raw Material Supply Analysis Small Group of Industries Food Processing in the District Malang Cassava
IJSR - INTERNATIONAL JOURNAL OF SCIENTIFIC RESEARCH (2013)
Abstract
This study aims to analyze the growth of production and consumption, materials and forms of processed
food products, the system guarantees the availability of food staple (cassava) for the needs of small industry,
supply and demand processing technology, the synthesis of the opportunities, constraints, and policy development in the agroindustry based rural cassava. Used is descriptive analysis by observing the strengths, weaknesses, opportunities and threats as a SWOT analysis (Strength, Weakness, Opportunity, Threat). Based on the diagram of the analysis indicated that the position of entrepreneurs in the development of cassava agroindustry are in quadrant III region. This position is a situation that is not so bad, because there are opportunities for development although there are internal weaknesses. The strategy should the government do in this position is an opportunity to market the widest and suppress imports and expo rts provide access to the perpetrators of agro business loans. So agro-based raw materials of local food available in sufficient quantities in each research area, although there are fluctuations in supply between seasons every year
Keywords
Inventories of raw materials,
small industry,
food processing.
Publication Date
Winter March 9, 2013
Citation Information
Raw Material Supply Analysis Small Group of Industries Food Processing in the District Malang Cassava
Creative Commons license
This work is licensed under a Creative Commons CC_BY International License.