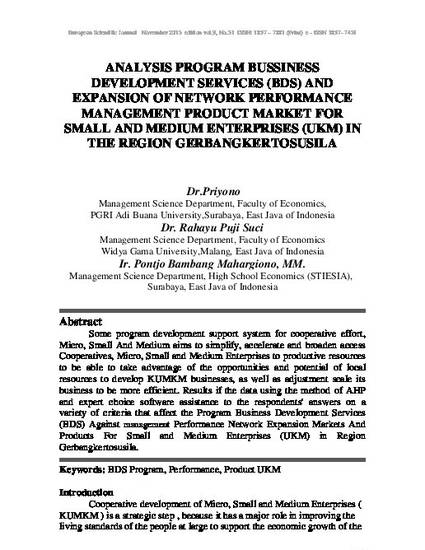 Article
ANALYSIS PROGRAM BUSSINESS DEVELOPMENT SERVICES (BDS) AND EXPANSION OF NETWORK PERFORMANCE MANAGEMENT PRODUCT MARKET FOR SMALL AND MEDIUM ENTERPRISES (UKM) IN THE REGION GERBANGKERTOSUSILA
European Scientific Journal (2013)
Abstract
Some program development support system for cooperative effort,
Micro, Small And Medium aims to simplify, accelerate and broaden access
Cooperatives, Micro, Small and Medium Enterprises to productive resources
to be able to take advantage of the opportunities and potential of local
resources to develop KUMKM businesses, as well as adjustment scale its
business to be more efficient. Results if the data using the method of AHP
and expert choice software assistance to the respondents' answers on a
variety of criteria that affect the Program Business Development Services
(BDS) Against
management Performance Network Expansion Markets And
Products For Small and Medium Enterprises (UKM) in Region
Gerbangkertosusila.
Keywords
BDS Program,
Performance,
Product UKM
Publication Date
Winter November 12, 2013
Citation Information
ANALYSIS PROGRAM BUSSINESS DEVELOPMENT SERVICES (BDS) AND EXPANSION OF NETWORK PERFORMANCE MANAGEMENT PRODUCT MARKET FOR SMALL AND MEDIUM ENTERPRISES (UKM) IN THE REGION GERBANGKERTOSUSILA
Creative Commons license
This work is licensed under a Creative Commons CC_BY International License.