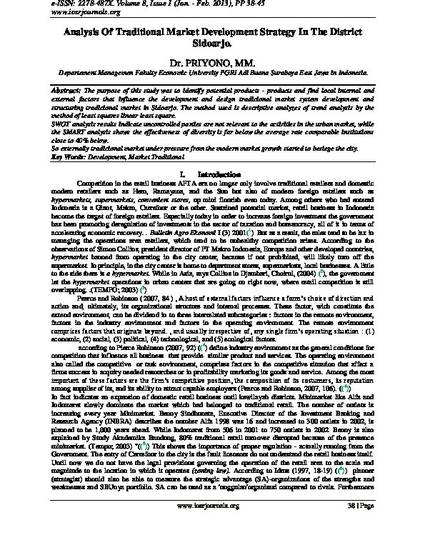 Article
Analysis Of Traditional Market Development Strategy In The District Sidoarjo.
IOSR Journal of Business and Management (IOSR-JBM) (2013)
Abstract
The purpose of this study was to identify potential products - products and find local internal and
external factors that influence the development and design tradicional market system development and
structuring tradicional market in Sidoarjo. The method used is descriptive analyzes of trend analysis by the
method of least squares linear least square.
SWOT analysis results indicate uncontrolled parties are not relevant to the activities in the urban market, while
the SMART analysis shows the effectiveness of diversity is far below the average rate comparable institutions
close to 40% below. So externally tradicional market under pressure from the modern market growth started to besiege the city.
Keywords
Development,
Market Traditional
Publication Date
Spring February 10, 2013
Citation Information
priyono.unu_sidoarjo@yahoo.com
Creative Commons license
This work is licensed under a Creative Commons CC_BY International License.