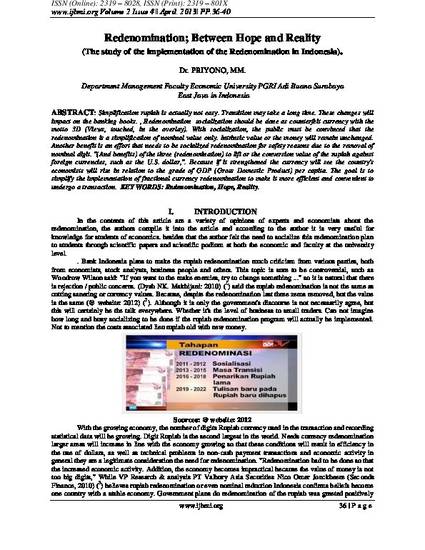 Article
Redenomination; Between Hope and Reality (The study of the implementation of the Redenomination in Indonesia).
International Journal of Business and Management Invention (2013)
Abstract
Simplification rupiah is actually not easy. Transition may take a long time. These changes will
impact on the banking books. , Redenomination  socialization should be done as counterfeit currency with the
motto 3D (Views, touched, in the overlay). With socialization, the public must be convinced that the
redenomination is a simplification of nominal value only. Intrinsic value or the money will remain unchanged.
Another benefit is an effort that needs to be socialized redenomination for safety reasons due to the removal of
nominal digit. "(And benefits) of the three (redenomination) to lift or the conversion value of the rupiah against
foreign currencies, such as the U.S. dollar,". Because if it strengthened the currency will see the country's
economists will rise in relation to the grade of GDP (Gross Domestic Product) per capita. The goal is to
simplify the implementation of fractional currency redenomination to make it more efficient and convenient to
undergo a transaction.
Keywords
Redenomination,
Hope,
Reality.
Publication Date
Winter April 8, 2013
Citation Information
Department Management Faculty Economic University PGRI Adi Buana Surabaya East Java in Indonesia
Creative Commons license
This work is licensed under a Creative Commons CC_BY International License.