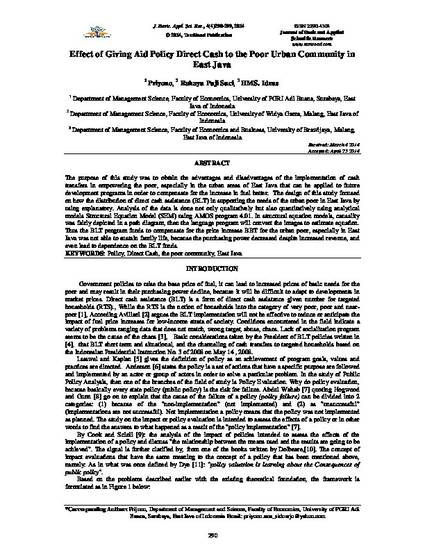 Article
Effect of Giving Aid Policy Direct Cash to the Poor Urban Community in East Java
Journal of Basic and Applied Scientific Research (Thomson) (2014)
Abstract
The purpose of this study was to obtain the advantages and disadvantages of the implementation of cash
transfers in empowering the poor, especially in the urban areas of East Java that can be applied to future
development programs in order to compensate for the increase in fuel better.  The design of this study focused
on how the distribution of direct cash assistance (BLT) in supporting the needs of the urban poor in East Java by
using explanatory. Analysis of the data is done not only qualitatively but also quantitatively using analytical
models Structural Equation Model (SEM) using AMOS program 4.01. In structural equation models, causality
was fairly depicted in a path diagram, then the language program will convert the images to estimate equation.
Thus the BLT program funds to compensate for the price increase BBT for the urban poor, especially in East
Java was not able to sustain family life, because the purchasing power decreased despite increased revenue, and
even lead to dependence on the BLT funds.
Keywords
Policy,
Direct Cash,
the poor community,
East Java
Publication Date
Spring April 25, 2014
Citation Information
Journal of Basic and Applied Scientific Research
Creative Commons license
This work is licensed under a Creative Commons CC_BY International License.