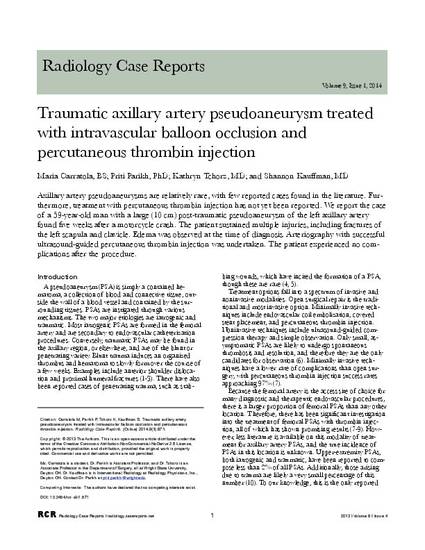 Popular Press
Traumatic Axillary Artery Pseudoaneurysm Treated with Intravascular Balloon Occlusion and Percutaneous Thrombin Injection
Radiology Case Reports
Publication Date
1-1-2014
Abstract
Axillary artery pseudoaneurysms are relatively rare, with few reported cases found in the literature. Furthermore, treatment with percutaneous thrombin injection has not yet been reported. We report the case of a 59-year-old man with a large (10 cm) post-traumatic pseudoaneurysm of the left axillary artery found five weeks after a motorcycle crash. The patient sustained multiple injuries, including fractures of the left scapula and clavicle. Edema was observed at the time of diagnosis. Arteriography with successful ultrasound-guided percutaneous thrombin injection was undertaken. The patient experienced no complications after the procedure.
Citation Information
Maria Carratola, Priti Parikh, Kathryn M. Tchorz and Shannon Kauffman. "Traumatic Axillary Artery Pseudoaneurysm Treated with Intravascular Balloon Occlusion and Percutaneous Thrombin Injection"
Radiology Case Reports
Vol. 9 Iss. 1 (2014) ISSN: 1930-0433
Available at: http://works.bepress.com/priti_parikh/15/