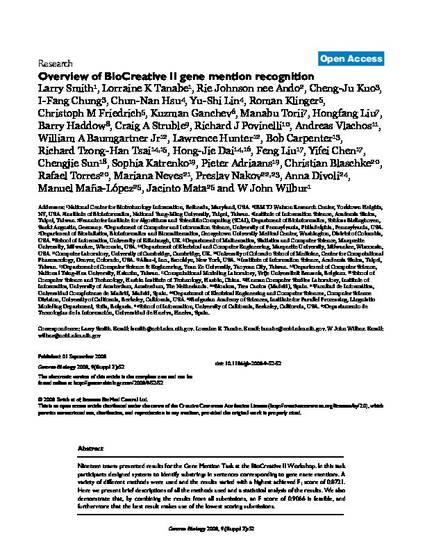 Article
Overview of BioCreative II Gene Mention Recognition
Genome Biology
Publication Date
1-1-2008
Original Item ID
doi: 10.1186/gb-2008-9-s2-s2; PubMed Central: PMCID 2559986
Abstract
Nineteen teams presented results for the Gene Mention Task at the BioCreative II Workshop. In this task participants designed systems to identify substrings in sentences corresponding to gene name mentions. A variety of different methods were used and the results varied with a highest achieved F1 score of 0.8721. Here we present brief descriptions of all the methods used and a statistical analysis of the results. We also demonstrate that, by combining the results from all submissions, an F score of 0.9066 is feasible, and furthermore that the best result makes use of the lowest scoring submissions.
Citation Information
Larry Smith, Lorraine K. Tanabe, Rie Johnson nee Ando, Cheng-Ju Kuo, et al.. "Overview of BioCreative II Gene Mention Recognition"
Genome Biology
(2008) ISSN: 1465-6906
Available at: http://works.bepress.com/preslav-nakov/1/