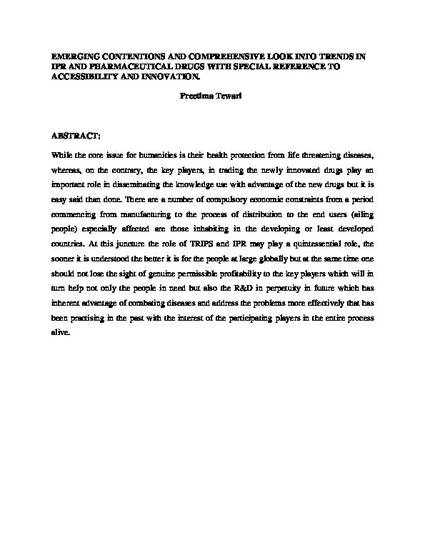 Unpublished Paper
EMERGING CONTENTIONS AND COMPREHENSIVE LOOK INTO TRENDS IN IPR AND PHARMACEUTICAL DRUGS WITH SPECIAL REFERENCE TO ACCESIBILITY AND INOVATION
ExpressO (2013)
Abstract
While the core issue for humanities is their health protection from life threatening diseases, whereas, on the contrary, the key players, in trading the newly innovated drugs play an important role in disseminating the knowledge use with advantage of the new drugs but it is easy said than done. There are a number of compulsory economic constraints from a period commencing from manufacturing to the process of distribution to the end users (ailing people) especially affected are those inhabiting in the developing or least developed countries. At this juncture the role of TRIPS and IPR may play a quintessential role, the sooner it is understood the better it is for the people at large globally but at the same time one should not lose the sight of genuine permissible profitability to the key players which will in turn help not only the people in need but also the R&D in perpetuity in future which has inherent advantage of combating diseases and address the problems more effectively that has been practicing in the past with the interest of the participating players in the entire process alive.
Keywords
PATENT,
PHARMACEUTICAL DRUGS,
ACCESSIBILITY AND INNOVATION
Publication Date
July 28, 2013
Citation Information
preetima tewari. "EMERGING CONTENTIONS AND COMPREHENSIVE LOOK INTO TRENDS IN IPR AND PHARMACEUTICAL DRUGS WITH SPECIAL REFERENCE TO ACCESIBILITY AND INOVATION"
ExpressO
(2013)
Available at: http://works.bepress.com/preetima_tewari/1/