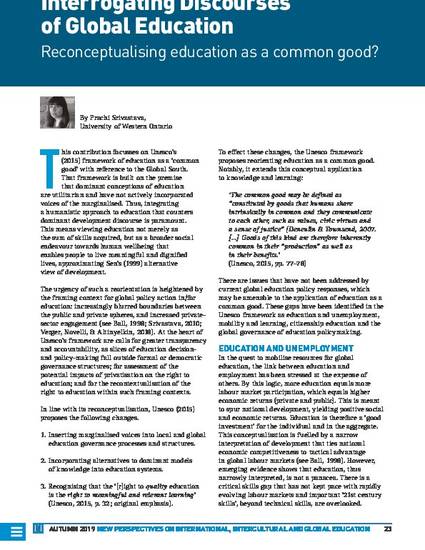 Article
Interrogating Discourses of Global Education: Reconceptualizing Education as a Common Good?
Research Intelligence
Document Type
Response or Comment
Publication Date
10-1-2019
Abstract
This contribution analyses UNESCO's framework of education as a common good in the context of the Global South. It argues that dominant conceptions view education in a narrow, instrumentalist perspective. Despite its promise to reorient education as a broader social endeavour towards human wellbeing to lead meaningful lives (Sen, 1999), UNESCO's framework has failed to gain significant traction. I argue this is linked to challenges associated with: education and unemployment; global mobility and learning assessment systems; citizenship education; and the global governance of education policymaking.
Citation Information
Srivastava, P. (2019). Interrogating discourses of global education: Reconceptualising education as a common good? Research Intelligence, 140, pp. 23-24.