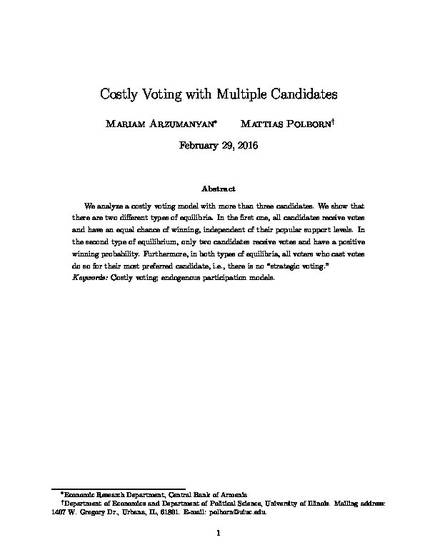 Article
Costly voting with multiple candidates
Games and Economic Behavior (2017)
Abstract
We analyze a costly voting model with more than three candidates. We show that there are two different types of equilibria. In the first one, all candidates receive votes and have an equal chance of winning, independent of their popular support levels. In the second type of equilibrium, only two candidates receive votes and have a positive winning probability.
Furthermore, in both types of equilibria, all voters who cast votes do so for their most preferred candidate, i.e., there is no ``strategic voting.''
Keywords
costly voting,
endogenous participation
Citation Information
Mariam Arzumanyan and Mattias K Polborn. "Costly voting with multiple candidates"
Games and Economic Behavior
Vol. 106 (2017) p. 38 - 50
Available at: http://works.bepress.com/polborn/31/